Panyang Congou
Last Updated: Sep. 6, 2017
↑About Panyang Congou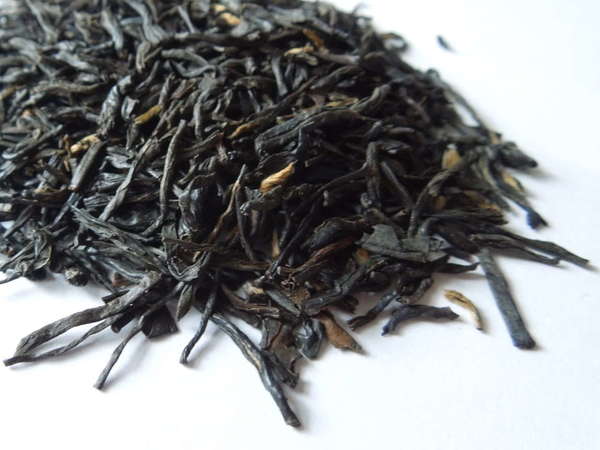 Loose-Leaf Panyong Golden Needle Black Tea from Tea Horse, Photo © Alex Zorach,
CC BY-SA 4.0
.
Panyang congou
, also sometimes written
panyong congou
, is a style of black tea from South
China
. It has been described as similar to Keemun or Ceylon black tea. Panyang refers to
Tanyang
(坦洋), a village in
Ningde
(宁德) county of Fujian province, where the style originated.
Some tea labelled as panyang congou is tippy (rich in leaf buds) and golden in appearance, much like
golden monkey
or
Yunnan gold
. However, this tea is not necessarily rich in leaf buds, and can also be made out of larger, more mature leaves.
Some teas are
both
Panyang congou and golden monkey; these teas we classify in the golden monkey category.
↑Recent Panyang Congou Reviews — RSS
43 / 100

This was the most disappointing pure tea I've ever tried from Harney & Sons.

Dry leaf not very aromatic, but the aroma is pleasant. The leaf is pretty, with fine wiry pieces, fairly finely broken...the faint aroma suggests spice and dried fruit, like fig or date.

The brewed cup is surprisingly lacking in aroma. ...
Read Full Review
73 / 100

I like this tea. It has a weird kind of aroma, but it's good overall. The flavor is strong, crisp, and not too bitter. I added cream and sugar. It's interesting that on the package it recommends adding cream and not milk, because I always add cream to my tea.
Read Full Review
87 / 100

A wonderful, nuanced black tea with a mild flavor, and complex aroma, also creating nice sensations on the palate.

Dry leaf has a mild but very pleasing aroma suggestive of sweet dried fruit, but fresher and lighter smelling.

Upon brewing, this produces a very dark brown cup with a mellow aroma, yet exquisite fla...
Read Full Review
80 / 100

Wiry leaf has a good amount of golden tip. I was surprised by the dark color of the liquor produced by these light golden leaves. The picture Harney provided looks a bit deceptive--I found it brews much darker.

Aroma is intensely cocoa-ey and chocolatey. Almost tastes like a cup of unsweetened cocoa. Reminiscent...
Read Full Review
87 / 100

Aroma toasty and caramely, like the crust of a pastry. This tea is so reminiscent of pastry that if I close my eyes, I almost picture there being a baked good, rather than a cup of tea, in front of me.

Dark, rich, but with a pleasingly smooth flavor. Finish leaves a surprisingly lightness on the palate, and a fain...
Read Full Review
↑Top Reviewers
Review 2 teas to get on this list!
Advertisement
↑Most-Rated Panyang Congou

2 Ratings

1 Rating

1 Rating

1 Rating
↑Top-Rated Panyang Congou
We need at least 3 ratings for a tea to calculate a percentile ranking. You can help us out by rating more teas of this style.