Golden Monkey
Wikipedia: Golden_Monkey_tea
Last Updated: Sep. 13, 2017
↑About Golden Monkey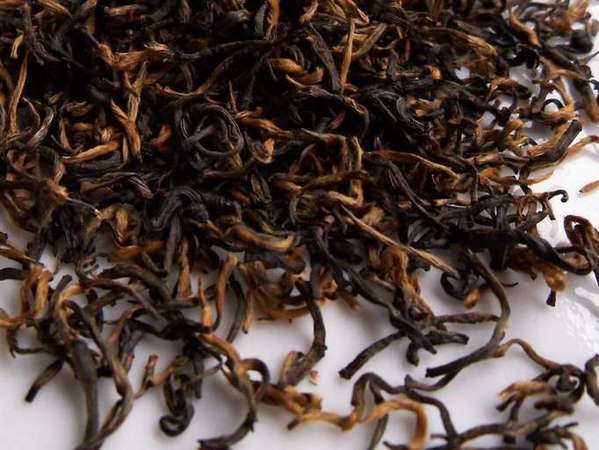 Photo of Leaf of Golden Monkey from Adagio Teas by A Girl With Tea, Photo © A Girl With Tea,
CC BY 2.0
.
Golden monkey
, also called by its Chinese name
jin hou
, is a
tippy
black tea that originated in
Fujian
province in China.
According to the
Harney and Sons Guide to Tea
, Golden Monkey is made from the
da bai
or "big white" varietal of the tea plant, one typically used for
white tea
.[1]
Canton Tea Co
, however, reports that this type of tea is from the
Xiao Cai
cultivar. The tea is made from one leaf and a bud, in contrast to the standard plucking of the top two leaves and a bud. The harvest is timed to allow the buds to grow as large as possible while still remaining tender[1].
This tea tends to have a sweeter flavor and lower
astringency
than most black teas, owning to its lower
tannin
content. Its aroma is typically fruity, with tones of cocoa. The fruitiness is often compared to peach, apple, or dried fruit such as raisins.
Although it is a black tea, the tips in its dry leaf have a golden color, hence the name. The name may also originate from a golden rim around the liquor in the brewed cup.[2] Golden monkey tends to be more expensive than a typical black tea due to its high concentration of tips or leaf buds. It is also tends to have more caffeine than other similar black teas, as the tips are higher in caffeine.
Relationship to Panyang Congou
According to James Norwood Pratt, this tea originated in Tanyang (Panyong) village in the Minbei region, and was developed for export to Europe.[2] Sometimes this type of tea is marketed as
Panyong congou
or
Panyong wang
, referencing its town of origin. These Panyong teas however are a broader category, also including teas that do not have as much golden tip.
We classify teas in the
panyang congou
category if they are not marketed as golden monkey, or if they are teas from this region in this style that do not have a golden color and/or consist mostly of tips.
Other Similar Black Teas With Gold Tips
Golden monkey is distinct from golden needle tea, a black tea made exclusively of buds, and is also distinct from
Yunnan gold
, a similar tea from Yunnan province. Yunnan gold shares some qualities in common with Golden monkey, but has a distinct aroma and flavor, and is often described as having a peppery quality.
Sometimes companies market teas from Yunnan province as Golden Monkey, usually without providing any information as to style or varietal; in the absence of any further information, we usually list these teas as Golden Monkey, but they may be mis-labelled Yunnan Golds. Uncommonly, the term "golden monkey" is also applied high grades of
Keemun
that is rich in golden tips and has a similar appearance.
References
1. Michale Harney, Harney and Sons Guide to Tea, 2008.
2. James Norwood Pratt, Tea Dictionary, 2010, pp. 119.
↑Recent Golden Monkey Reviews — RSS
85 / 100

Ordered a Fujiian Black Tea sampler pack from Yunnan Sourcing and this was my second favorite. Nice and light with a good 2-3 re-steeps coming out of it. The rest of the sampler were richer more malty and coffee like tea's while this one was the lightest. Not a roasted or rich flavor but something easy to drink. Has a ...
Read Full Review
91 / 100

This was the first tea I bought from Yunnan Sourcing that was not actually grown in Yunnan province. I was a bit reluctant to order it, but also curious, because this company has been so consistently good at everything they sell, both in terms of price and quality. This tea turned out to be a little less interesting th...
Read Full Review
85 / 100

An excellent tea, with good balance between the flavors and aromas. A bit on the pricey side.
Read Full Review
86 / 100

This tea was more pleasant than interesting. I liked it a lot, but found it hard to write as much about it. I also thought it was slightly overpriced.

Dry leaf is very pretty (like many of Murchie's teas, their photo doesn't do it justice, so I took one of my own), with bright golden-orange tips against a dark backg...
Read Full Review
87 / 100

Very nice tea! Tastes almost exactly like the wild lapsang souchong to me but is a bit fruitier! I will definitely be getting some more on Amazon soon!
Read Full Review
↑Top Reviewers
Review 2 teas to get on this list!
Advertisement
↑Most-Rated Golden Monkey

20
9 Ratings

16
5 Ratings

69
4 Ratings
2 Ratings
↑Top-Rated Golden Monkey

69
4 Ratings

20
9 Ratings

16
5 Ratings