Rooibos Chai / Spiced Rooibos
Updated: Aug. 7, 2015
About Rooibos Chai / Spiced Rooibos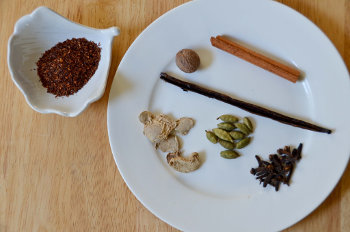 Rooibos, left, with spices typically used in masala chai, right. Photo by
Iris
, licensed under
CC BY-ND 2.0
.
Rooibos chai
, sometimes called
red chai
or more accurately,
spiced rooibos
or
herbal masala chai
is a blend of
rooibos
and spice, and can be viewed as a variant or imitation of
masala chai (spiced tea)
made with rooibos (usually red rooibos) instead of tea.
Rooibos chai is a bit of a misnomer, as "chai" means tea whereas "masala", the word that is usually dropped, is the word that means "spiced". This style of tea is also sometimes called
herbal chai
, although that term is a broader category that also includes spiced herbal blends that do not contain rooibos.
Rooibos-based chai has become popular due to the fact that it is completely caffeine-free, and yet richer in flavor than most decaffeinated teas. It has become a bit of a style in and of itself, and can be appreciated as-is rather than as an imitation of masala chai.
Best Rooibos Chai / Spiced Rooibos
The notion of the "best" Rooibos Chai / Spiced Rooibos is subjective, because different people have different tastes. We present the most often-rated and highest-rated teas in this category, and allow you to draw your own conclusions.
Most Often-Rated Teas
Top-Rated Teas

| | |
| --- | --- |
| Brand: | Equo |
| Region: | ????? |
| Caffeine: | Caffeine Free |
| Leaf: | Teabag |
81
3 Ratings

9
3 Ratings