Rooibos Chai / Spiced Rooibos
Last Updated: Aug. 7, 2015
↑About Rooibos Chai / Spiced Rooibos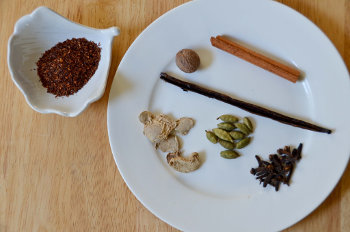 Rooibos, left, with spices typically used in masala chai, right. Photo by
Iris
, licensed under
CC BY-ND 2.0
.
Rooibos chai
, sometimes called
red chai
or more accurately,
spiced rooibos
or
herbal masala chai
is a blend of
rooibos
and spice, and can be viewed as a variant or imitation of
masala chai (spiced tea)
made with rooibos (usually red rooibos) instead of tea.
Rooibos chai is a bit of a misnomer, as "chai" means tea whereas "masala", the word that is usually dropped, is the word that means "spiced". This style of tea is also sometimes called
herbal chai
, although that term is a broader category that also includes spiced herbal blends that do not contain rooibos.
Rooibos-based chai has become popular due to the fact that it is completely caffeine-free, and yet richer in flavor than most decaffeinated teas. It has become a bit of a style in and of itself, and can be appreciated as-is rather than as an imitation of masala chai.
↑Recent Rooibos Chai Reviews — RSS
70 / 100
Half-litre pot at home, made from fine rooibos leaves. Pours clear orangeish amber with no sediment. Clear aroma of rooibos, with touches of fruit and mild hints of chili. Mild but clear flavour of rooibos, with fruity touches and clear but not aggresive notes of chili. Creamy palate with an aftertaste of chili and mil...
Read Full Review
84 / 100

The first thing I notice about this tea is how very strongly it smells like cinnamon, I really like that smell. The dominating taste is definitely the cinnamon and also the cardamom. This is a very intense herbal tea and I wouldn't drink it for relaxation, but I would definitely drink it other times like in the morning...
Read Full Review
74 / 100

The dry-bag* and in-cup scents were robust and screamed "chai", which is great since I enjoy such tea. Cinnamon and cardamom stood obvious, cloves and black pepper being apparent with some concentration, the other ingredients a good deal less so. Even though ginger is the second ingredient (behind rooibos), I only co...
Read Full Review
55 / 100

The aroma of this tea is almost pure cinnamon. In theory this would make it a great tea in my opinion... I love chai and I love cinnamon. Unfortunately, the flavor doesn't really match the aroma. Yes, there's a cinnamon feel to it, but it's extremely subtle, resulting in a weakly spiced chai that doesn't live up to its...
Read Full Review
50 / 100

Overall A very "meh" tea. It smelled quite nice but when a took a sip it was not what I expected(in a bad way). It had almost no vanilla taste and was almost a depressing masala chai.
Read Full Review
↑Top Reviewers
Review 2 teas to get on this list!
Advertisement
↑Most-Rated Rooibos Chai

1
4 Ratings

52
3 Ratings

12
3 Ratings

2 Ratings

2 Ratings
↑Top-Rated Rooibos Chai

52
3 Ratings

12
3 Ratings

1
4 Ratings