Shou Mei
Wikipedia: Shou_Mei_tea
Updated: Mar. 12, 2014
About Shou Mei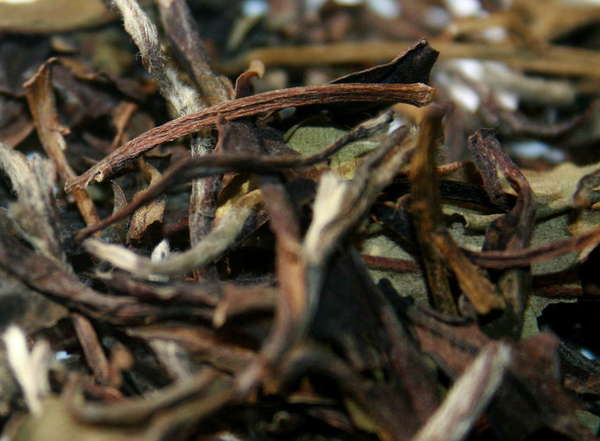 Loose-Leaf Shou Mei (Longevity Eyebrows) White Tea, Photo ©
Akuppa John Wigham
,
CC BY 2.0
.
Shou mei
(寿眉), often translated
longevity eyebrows
, and sometimes spelled
sow mee
, is a Chinese
white tea
made of large leaves and having a dark color. Shou mei tends to be made out of more mature leaves, and contains relatively fewer
tips or leaf buds
, although the portion of tips can vary considerably within this style. Although it is usually classified as a white tea, the brewed tea tends to be darker in color than most white teas, reflecting an increased level of
oxidation
. Shou mei is usually described as richer and bolder in comparison to other white teas. The flavor and aroma is sometimes described as more similar to that of
oolong tea
than other white teas.
The dry leaves are diverse in color, and usually include some brown leaves as well as some greenish and silvery leaves. Overall, the leaves tend to be browner in color than other white teas, which tend to have more silvery-green leaves.
Although considered a lower grade of white tea, and generally less expensive than other grades, shou mei is preferred to other white teas by some tea drinkers due to the boldness of its aroma, which bears some resemblance to autumn leaves.
Shou mei is the unofficial state tea of
Missouri
.
Best Shou Mei
The notion of the "best" Shou Mei is subjective, because different people have different tastes. We present the most often-rated and highest-rated teas in this category, and allow you to draw your own conclusions.
Most Often-Rated Teas
Top-Rated Teas

| | |
| --- | --- |
| Brand: | Foojoy |
| Region: | China |
| Caffeine: | Caffeinated |
| Leaf: | Teabag |
48
3 Ratings