Shou Mei White Tea
Wikipedia: Shou_Mei_tea
Last Updated: Mar. 12, 2014
↑About Shou Mei White Tea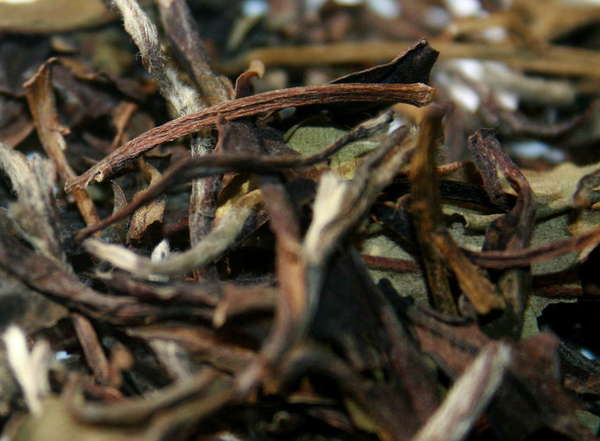 Loose-Leaf Shou Mei (Longevity Eyebrows) White Tea, Photo ©
Akuppa John Wigham
,
CC BY 2.0
.
Shou mei
(寿眉), often translated
longevity eyebrows
, and sometimes spelled
sow mee
, is a Chinese
white tea
made of large leaves and having a dark color. Shou mei tends to be made out of more mature leaves, and contains relatively fewer
tips or leaf buds
, although the portion of tips can vary considerably within this style. Although it is usually classified as a white tea, the brewed tea tends to be darker in color than most white teas, reflecting an increased level of
oxidation
. Shou mei is usually described as richer and bolder in comparison to other white teas. The flavor and aroma is sometimes described as more similar to that of
oolong tea
than other white teas.
The dry leaves are diverse in color, and usually include some brown leaves as well as some greenish and silvery leaves. Overall, the leaves tend to be browner in color than other white teas, which tend to have more silvery-green leaves.
Although considered a lower grade of white tea, and generally less expensive than other grades, shou mei is preferred to other white teas by some tea drinkers due to the boldness of its aroma, which bears some resemblance to autumn leaves.
Shou mei is the unofficial state tea of
Missouri
.
↑Recent Shou Mei Reviews — RSS
85 / 100

Shou Mei is a very stem-y and leafy loose left. Caina says to steep 1tbsp for about 25 seconds, with all the stems and big leafs it's pretty hard to measure. It's actually a lot easier just to eyeball and take a guess, if you drink a lot of loose leaf tea it's not that hard to guesstimate it. To me it has a light flowe...
Read Full Review
87 / 100

The dry cake smelled, to me, precisely of rich, unscented pipe tobacco—Scottish shag, or an English blend with Turkish leaf. Once brewed, the liquor is a perfect amber-honey tone, and the aroma has the sharpness of honey accompanied by a vaguely floral quality. The honey note follows into the taste of the liquor—mu...
Read Full Review
90 / 100

I loved this. I love Shou Mei, and this was the first example of it I tried in compressed form. It was definitely one of the best samples of Shou mei that I've tried.

The dry leaf of this cake has a moderate smell of dried fruit, with a hint of fermenting fruit in there. It's not the most aromatic of TeaVivre's t...
Read Full Review
87 / 100

The aroma is sweet, like a rich blend of muscatel and honey, in fact it reminds me a bit of honey wine (specifically the Grecian Honeyed Wine I used to make when I could imbibe in my younger days) with a nice finish of hay.

The taste, oh man, it is so sweet! I feel like I am drinking tea that tastes like mown hay, f...
Read Full Review
67 / 100

I love shou mei, a darker white tea, and I love Foojoy, so I was expecting to like this one, and I did. It's remarkably high quality for such an inexpensive tea bag. The only shou mei I've tried in tea bags.

This tea is surprisingly pungent, with the characteristic aroma of autumn leaves, and a hint of spice and p...
Read Full Review
↑Top Reviewers
Review 2 teas to get on this list!
Advertisement
↑Most-Rated Shou Mei

83
3 Ratings
↑Top-Rated Shou Mei

83
3 Ratings