Shui Hsien Oolong
Wikipedia: Shui_Hsien_tea
Last Updated: Apr. 11, 2012
↑About Shui Hsien Oolong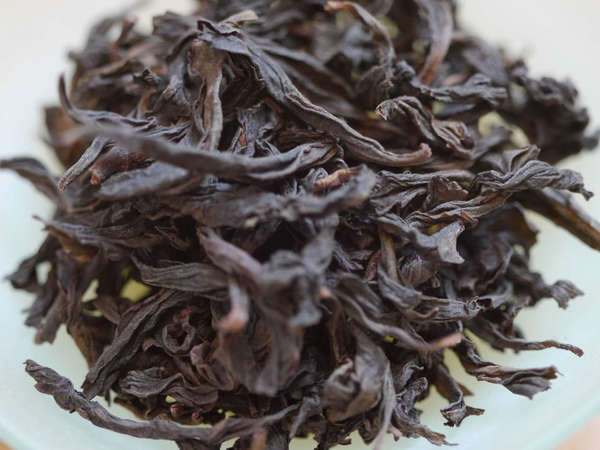 Loose-leaf Fujian Rain (Shui Xien Oolong) From Adagio Teas, Photo ©
Rebecca Siegel
,
CC BY 2.0
.
Shui hsien
(水仙), also spelled
shui xian
, usually translated
water sprite
or
water fairy
, but also meaning
narcissus
, is a style of
oolong tea
originating in the
Wuyi mountains
of
Fujian province, China
.
The shui hsien produced in Wuyi can be among the darkest of the Wuyi oolongs.
Zhangping
, however, in southern Fujian also produces greener (less oxidized) shui hsien.
Shui hsien, like the other Wuyi oolongs, is often brewed in the Gong Fu style, using multiple brief infusions. Shui is sometimes aged for as long as decades.
↑Recent Shui Hsien Oolong Reviews — RSS
71 / 100

The dry leaf has an interesting shape, loosely curly, less long and wiry than most Wuyi oolong. It's intensely aromatic, smelling like roast and fruit; the fruitiness is quite astounding, it's maybe a little like dried peaches or apricots.

The brewed cup is very roasty, with notes of wood and hints of coffee. It's...
Read Full Review
43 / 100

This one is actually currently available.
I ordered 2 15g samples about a month ago. The fact I still have some left is a clue as to what I think about it :)

I admit to buying this because it's a unique brick oolong. I also figured that given the high price it should be good.
I've since learned that price is not...
Read Full Review
63 / 100

Very dark brown leaf, rather broken up, smells mainly of roast when dry.

Produces a surprisingly clear, almost-greenish infusion.

Aroma complex, but only when I pay attention to it deliberately; it's not attention-getting. This tea seemed forgettable if I drank it casually, but had a lot going on when I focused ...
Read Full Review
73 / 100
The dry leaf of this oolong looked and smelled heavily roasted, and frankly, smelled more than a little boring to me. But when I brewed this cup, I was pleasantly surprised.

The aroma is complex and a bit edgy--there are some fairly strong skunky, herbaceous qualities, tones of celery, and a few floral tones in the...
Read Full Review
77 / 100

This was a fascinating tea for me to try. It was completely unlike any other oolong I've tried. The loosely-packed leaves separate easily and infuse quicker than I'd expect for their tough texture. After steeping I noticed that the larger leaves are mostly whole, but the smaller leaves and buds are mostly broken. I...
Read Full Review
↑Top Reviewers
Review 2 teas to get on this list!
Advertisement
↑Most-Rated Shui Hsien Oolong
↑Top-Rated Shui Hsien Oolong
We need at least 3 ratings for a tea to calculate a percentile ranking. You can help us out by rating more teas of this style.