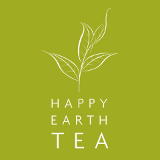 Most Reviewed By:

Search Happy Earth Tea's teas:
Happy Earth Tea






Web: happyearthtea.com
Last Updated: May. 12, 2014
Happy Earth Tea is a tea company founded in 2011 by Niraj Lama and Mary Boland. Niraj Lama is from the Darjeeling region of India, and formerly ran Darjeeling Tea Exclusive, a company based in India which sold teas.

Happy Earth Tea carries a selection of teas from the world, but still shows a clear focus on Darjeeling teas, especially those that are organic certified. The company sells single-harvest teas, which tend to have limited availability--once one year's selection sells out, one must wait for the next year's harvest to come into stock before buying again.
Physical Locations
Most Often-Rated Teas
Top-Rated Teas
You can also add a new tea. Please search or browse this company's teas first, to avoid adding duplicates.