News, Updates & Announcements
Page 1 2 3 4 5 6 of 6 pages with 18 results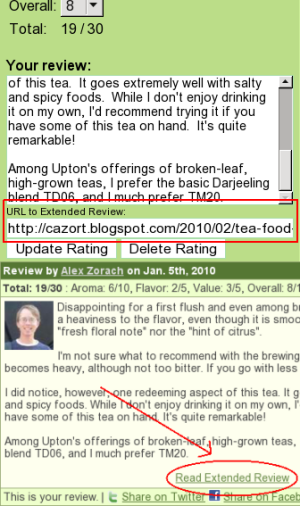 Promote your tea blog!
At RateTea.net, we do not want to replace tea blogs or get people to stop writing longer reviews--quite to the contrary, we want to encourage bloggers to write more about tea, and to help people locate bloggers who write about tea. We have thus added a new feature allowing users to link their ratings to more detailed reviews on an external blog.
Blogs are organized so that newer material is more prominent. RateTea.net is organized in a different way, cross-indexing teas by brand, style, and region. Linking to your blog from reviews on RateTea.net can be a way to help people discover older posts on your blog that they might not otherwise find.
Don't have a tea blog?
Do you have a blog or website that is not primarily about tea? You can still feel free to write a tea review whenever you like, and link to it from your RateTea.net reviews.
Tea Bloggers on Twitter:
If you use twitter, you may find our
twitter list of tea bloggers
useful, whether you're a blogger yourself or just want to watch or join in on the conversation. If you do have a tea blog and you're not on the list, make sure to
@-message us
so that we can add you to this list.
Profile Pictures:
Also, if you notice from the screenshot on the right, we have added profile pictures. You can upload a picture or you can select an image from a list. We hope this will help make our site more personal and help people to quickly identify individual reviewers.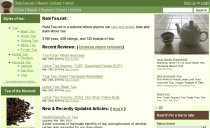 We are pleased to announce a redesign of
our homepage
and layout. The new homepage highlights features we've had for a long time, making it easier to find all the information that is already on RateTea.net.
Bringing attention to changes & updates:
The
tea of the moment
helps you to discover new teas, styles, and brands of tea.
Check the links at the top of the screen and you'll now find an
Articles
link, leading to our collection of articles on tea-related topics. The articles are continually being updated, and articles with recent changes and updates are listed first.
In addition to highlighting recent reviews, the homepage now also displays a
tea of the moment
and shows new and recently updated articles, as well as listing the most recently updated pages for styles and varieties of tea.
The new design is also easier to modify and maintain, so expect more additions in the future. Just as our number of ratings has grown by over 20% in the past month, we hope to continue improving the quality and functionality of the site.
Thank you!
We'd like to thank everyone who gave us feedback on our old layout and our new layout when we were developing and testing it. We are always open to suggestions, so if you have any further ideas of how we could further improve the layout or any aspect of the site, please
contact us
!
In order to keep our readers and users up to date and informed about new features and changes, we have created this news page. Right now it functions a little like a blog, but because we are a bit old-fashioned, we have chosen to call it news.
What's new since our launch?
New material - As of today we have listed 2642 teas classified into 143 distinct styles, from 113 brands, and there are 378 ratings of these teas. We've also added more detailed information on many of the pages for each style.
"People" Page - Note the new link at the top of each page. Right now this page highlights our top contributors, those who have rated and reviewed the most teas. As we expand we will add more features and information to this page.

Improved User Profiles - Profiles are still minimal, but look a little nicer and have a little more information on them. You can edit your profile by clicking "profile" in the upper-right-hand corner when you are logged in.
Sharing via Twitter and Facebook - You can now share your reviews on these social networking sites with the click of a button!
Our plans for the future:
Please let us know if there are any features you would like us to add or improve, or if there are any other websites you would like us to integrate with. We are planning to add profile pictures, and we also have a few surprises in the works that we will announce soon!