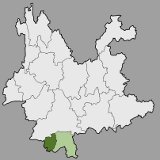 Most Reviewed By:

Menghai, Yunnan, China
Wikipedia: Menghai_County
Updated: Jan. 25, 2018
About Menghai, Yunnan, China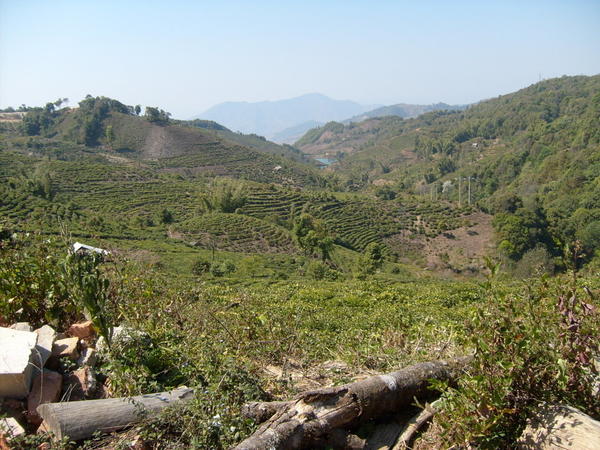 Scenic View of Tea Plantations, Menghai, Yunnan Province, Photo ©
Taco Witte (Flickr)
,
CC BY 2.0
.
Menghai
(勐海) is a county in Yunnan province, China, located within
Xishuangbanna Dai Autonomous Prefecture
, the southernmost prefecture in Yunnan and one of the southernmost parts of China. This region is culturally distinct from the rest of China, and is also high in biodiversity, owing both to its mild climate and remoteness. Menghai shares a border with
Burma (Myanmar)
to the southwest, and
Lancang county
of Pu'er (Simao) prefecture to the northwest.
The climate in Menghai is towards the mild end of subtropical. There is significant seasonal variation, with a warm, rainy season from May through September or a bit later, and a cool and very dry winter, with only negligible precipitation December through January in most years. Winters are mild, and although frost can occur, it is rare except at higher elevations. The hottest temperatures tend to occur in April and early May, before the arrival of the monsoons provides the water that mitigates the high temperatures somewhat in summer.
Menghai is important in Pu-erh production.
Menghai Tea Factory
, one of the oldest and most important producers of pu-erh, is located in Menghai. Tea grown in Menghai is also processed in a number of other factories.
Styles of Tea Produced in Menghai, Yunnan, China
This is a selection, not an exhaustive listing, of the styles of tea most commonly produced in Menghai, Yunnan, China.
Best Menghai Teas
The notion of the "best" Menghai teas is subjective, because different people have different tastes. We present the most often-rated and highest-rated teas produced in Menghai, Yunnan, China, and allow you to draw your own conclusions.
Most Often-Rated Teas
Top-Rated Menghai Teas
We need at least 3 ratings for a tea to calculate a percentile ranking. You can help us out by rating more teas of this style.