Raw (Sheng) Pu-erh
Last Updated: Mar. 14, 2014
↑About Raw (Sheng) Pu-erh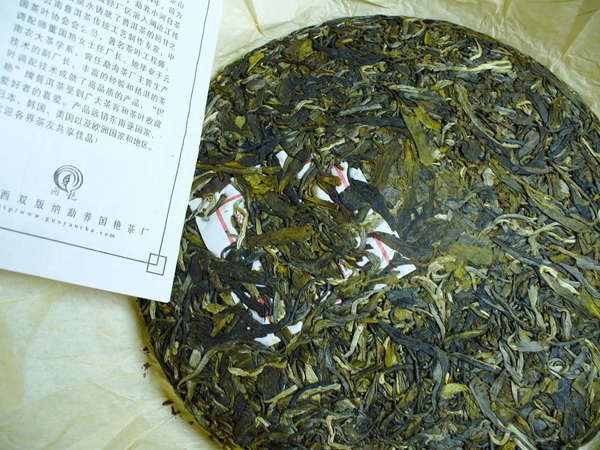 A one-year-old Sheng Pu-erh cake, showing a range of vivid green colors that illustrate that this is an unoxidized tea. These cakes slowly darken in color as they age. Photo © teajournaling (Flickr),
CC BY 2.0
.
Raw
, also called
green
or
sheng pu-erh
(生普洱), is
pu-erh tea
that has not been
oxidized
or artificially aged in the way that
ripe or cooked (black) pu-erh
is. Raw pu-erh, like all pu-erh tea, originated in and is mostly produced in
Yunnan, China
. Originally, all Pu-erh produced was raw Pu-erh.
Like ripe pu-erh, raw pu-erh is often aged and often becomes more desirable with age. Raw pu-erh tends to have a very strong flavor before it is aged.
Raw pu-erh is available both loose and in compressed forms, such as a tuocha cake. Raw pu-erh can be classified as both a
green tea
and a pu-erh tea. We list all Pu-erh as a subcategory of
dark tea or hei cha
for simplicity and practicality, but un-aged raw Pu-erh is usually more accurately classified as a green tea.
↑Recent Raw (Sheng) Reviews — RSS
90 / 100

This sheng pu'erh has a strong taste with a thick liquor. It has a really interesting and pleasing sweet and bitter mouth-feel. This a strong tea with a powerful energy.


Read Full Review
90 / 100

I've never had a tea as mouthwatering as this one and the bitterness which prompts it is really quite reasonable and consistent even after brewing it numerous times. It has a light, pleasant sweetness. But, really most of the presence is in a light thrust of bitterness at the start of a sip, which causes my mouth to wa...
Read Full Review
45 / 100

I think that if I were new to young, raw pu-erh and thought that they were all bitter and undrinkable, this might 'wow' me in that it is sweeter, fruity, and definitely can be consumed now. But, compared to other young, raw pu-erh I've tried, it's really not special. It's also higher-priced. And, I really didn't like t...
Read Full Review
80 / 100

I like this one, but I admit, at this point (July 2017), it is still a bit rough around the edges.

This tea is made with leaves from two different towns and I could taste this when drinking it. It was both sweet and bitter, astringent and mouth-watering. There was this very present duality in it, throughout the enti...
Read Full Review
90 / 100

I really loved this raw pu-erh. I found it to be floral and fruity, with notes reminiscent of lichee, apricot, and peaches. It was lightly tangy and an astringency came on pretty quickly when brewing it at higher temperatures. But, when I lowered the temperature and brewed at 90C, it held out for longer without becomin...
Read Full Review
↑Top Reviewers
Review 3 teas to get on this list!
Advertisement
↑Most-Rated Raw (Sheng)
↑Top-Rated Raw (Sheng)