Raw (Sheng) Pu-erh
Last Updated: Mar. 14, 2014
↑About Raw (Sheng) Pu-erh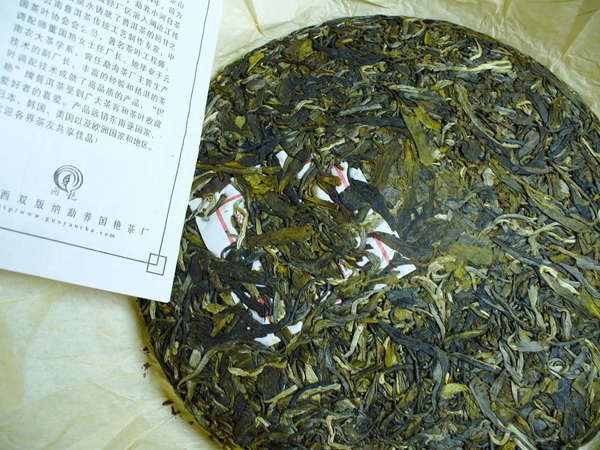 A one-year-old Sheng Pu-erh cake, showing a range of vivid green colors that illustrate that this is an unoxidized tea. These cakes slowly darken in color as they age. Photo © teajournaling (Flickr),
CC BY 2.0
.
Raw
, also called
green
or
sheng pu-erh
(生普洱), is
pu-erh tea
that has not been
oxidized
or artificially aged in the way that
ripe or cooked (black) pu-erh
is. Raw pu-erh, like all pu-erh tea, originated in and is mostly produced in
Yunnan, China
. Originally, all Pu-erh produced was raw Pu-erh.
Like ripe pu-erh, raw pu-erh is often aged and often becomes more desirable with age. Raw pu-erh tends to have a very strong flavor before it is aged.
Raw pu-erh is available both loose and in compressed forms, such as a tuocha cake. Raw pu-erh can be classified as both a
green tea
and a pu-erh tea. We list all Pu-erh as a subcategory of
dark tea or hei cha
for simplicity and practicality, but un-aged raw Pu-erh is usually more accurately classified as a green tea.
↑Recent Raw (Sheng) Reviews — RSS
75 / 100

This is definitely a young sheng (raw) pu-erh and that's really about all I know about this tea. I'd yet to try sheng pu-erh (young or old), so when I saw it in an Asian, mom-and-pop grocery for $4, I had to try it. There's no date anywhere on the package, so I've no idea what year it's from, but it can't be very old b...
Read Full Review
80 / 100

I'd rate this one pretty high, but most of the flavor is in the breath, not in the taste itself. I think it's a matter of personal preference as to whether one prefers one, the other, or both. I prefer both because it gives more of a rounded experience. This just doesn't have enough in the taste to appeal to me. There ...
Read Full Review
86 / 100

While the dry leaves have a rather muted scent, the wet leaves and brewed tea both have an amazingly sweet aroma, like if flowers were candy. Like the Daily Drinker, this is on the mellow side, but this one can be pushed further if you can tolerate bitterness. Brewed normally, the first couple steeps are grassy and veg...
Read Full Review
77 / 100

This tea has a wonderfully bright, fresh, floral fragrance, and a light bittersweet (more sweet than bitter) taste. It's moderately astringent, so be careful with brew times. As the name suggests, this won't be the greatest tea you've ever tasted; it's called Daily Drinker for a reason. It is quite good for the price, ...
Read Full Review
83 / 100

My favorite pu-erh so far out of the half a dozen or so I've tried, but it's also the most expensive. It does smell fruity (not sure what kind of fruit), but it also has a sweet rocky aroma, sort of like smelling the aftertaste of a good Wuyi oolong. Once brewed, it's strong and sweet without being astringent or bitter...
Read Full Review
↑Top Reviewers
Review 4 teas to get on this list!
Advertisement
↑Most-Rated Raw (Sheng)
↑Top-Rated Raw (Sheng)