Raw (Sheng) Pu-erh
Last Updated: Mar. 14, 2014
↑About Raw (Sheng) Pu-erh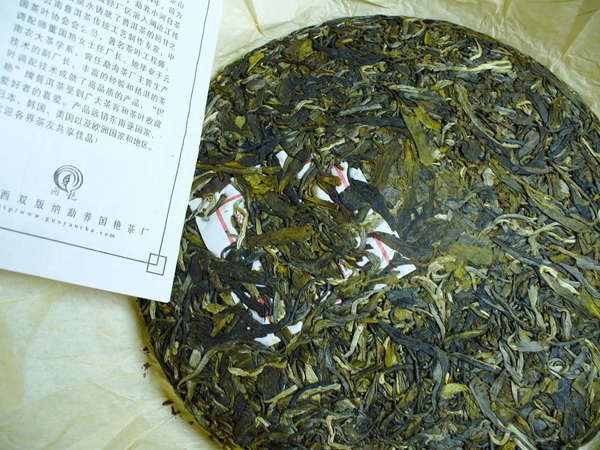 A one-year-old Sheng Pu-erh cake, showing a range of vivid green colors that illustrate that this is an unoxidized tea. These cakes slowly darken in color as they age. Photo © teajournaling (Flickr),
CC BY 2.0
.
Raw
, also called
green
or
sheng pu-erh
(生普洱), is
pu-erh tea
that has not been
oxidized
or artificially aged in the way that
ripe or cooked (black) pu-erh
is. Raw pu-erh, like all pu-erh tea, originated in and is mostly produced in
Yunnan, China
. Originally, all Pu-erh produced was raw Pu-erh.
Like ripe pu-erh, raw pu-erh is often aged and often becomes more desirable with age. Raw pu-erh tends to have a very strong flavor before it is aged.
Raw pu-erh is available both loose and in compressed forms, such as a tuocha cake. Raw pu-erh can be classified as both a
green tea
and a pu-erh tea. We list all Pu-erh as a subcategory of
dark tea or hei cha
for simplicity and practicality, but un-aged raw Pu-erh is usually more accurately classified as a green tea.
↑Recent Raw (Sheng) Reviews — RSS
82 / 100

I ordered two of these in 2018 as it sounded from the description as the sort of thing I would like. I broke off a tiny piece initially, and as I expected it was a bit strong for my taste. I was surprised though at how quickly this one mellowed out.

Now, about 5 years from harvest, I broke off a bit again and it's s...
Read Full Review
94 / 100

This pu-erh tea is wonderful! It has this rich vegetabley taste and it is thick bodied, almost like vegetable soup stock. Its really smooth and has no bitterness to it, its really enjoyable!
Read Full Review
65 / 100

Half-litre pot at home, brewed from a tuocha, i.e. a pill of compressed fermented leaves. Pours nearly clear fudge brown with negligible brownish sediment. Clear aroma of tea leaves, with mild notes of fermentation. Bitter, but not aggressive, flavour of black tea, with leafy notes and barely discernible touches of fer...
Read Full Review
75 / 100

SECOND UPDATE: I'm pretty sure now that this tuo is counterfeit and not really from the Xiaguan factory. I'd been drinking leaves from the surface, which were good, but just broke through to a second layer of chopped up leaves and twigs. I'm rather surprised at the amount of effort that went into counterfeiting a tea t...
Read Full Review
80 / 100

I'd rate this one pretty high, but most of the flavor is in the breath, not in the taste itself. I think it's a matter of personal preference as to whether one prefers one, the other, or both. I prefer both because it gives more of a rounded experience. This just doesn't have enough in the taste to appeal to me. There ...
Read Full Review
↑Top Reviewers
Review 3 teas to get on this list!
Advertisement
↑Most-Rated Raw (Sheng)
↑Top-Rated Raw (Sheng)