Raw / Green / Sheng Pu-erh
Updated: Mar. 14, 2014
About Raw / Green / Sheng Pu-erh

Raw Pu-erh Tea
from
Menghai Tea Factory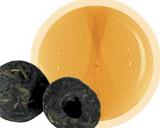 Green Puerh
from
Numi Organic Tea
Raw
, also called
green
or
sheng pu-erh
(生普洱), is
pu-erh tea
that has not been
oxidized
or artificially aged in the way that
ripe or cooked (black) pu-erh
is. Raw pu-erh, like all pu-erh tea, originated in and is mostly produced in
Yunnan, China
. Originally, all Pu-erh produced was raw Pu-erh.
Like ripe pu-erh, raw pu-erh is often aged and often becomes more desirable with age. Raw pu-erh tends to have a very strong flavor before it is aged.
Raw pu-erh is available both loose and in compressed forms, such as a tuocha cake. Raw pu-erh can be classified as both a
green tea
and a pu-erh tea.
Best Raw / Green / Sheng Pu-erh
The notion of the "best" Raw / Green / Sheng Pu-erh is subjective, because different people have different tastes. We present the most often-rated and highest-rated teas in this category, and allow you to draw your own conclusions.
Most Often-Rated Teas