Ripened (Shou) Pu-erh
Last Updated: Apr. 4, 2012
↑About Ripened (Shou) Pu-erh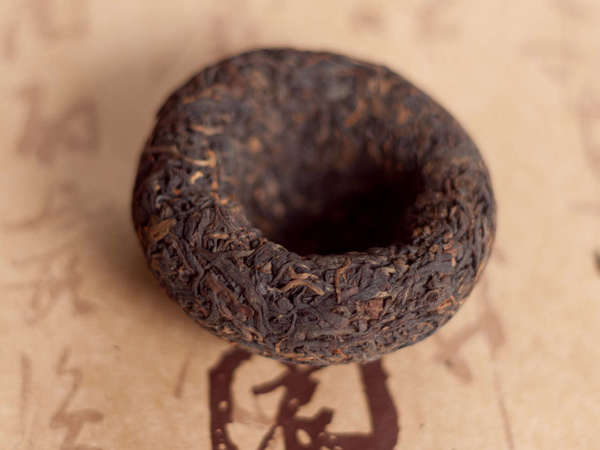 This dark color of this tuocha (bowl shape) is typical of shou or ripened Pu-erh. Photo ©
Ignat Gorazd (Flickr)
,
CC BY-SA 2.0
.
Ripened pu-erh
, also called
ripened pu-erh
or
ripe pu-erh
, also called
cooked pu-erh
,
shou
(熟, sometimes spelled
shu
)
pu-erh
, or
black pu-erh
is a type of
pu-erh tea
that has been processed ("ripened") in such a way as to imitate the qualities of aged raw pu-erh, but without the time-consuming aging process.
Historically, all pu-erh was produced as
raw pu-erh
. Raw pu-erh tends to have a very strong flavor, which mellows as the tea ages. The aging process is time-consuming and thus results in a higher price for the teas; ripe pu-erh was invented as a means of producing mellower pu-erh at a lower price.
In western countries, when pu-erh is sold without specification, it often refers to ripe pu-erh.
↑Recent Ripened (Shou) Reviews — RSS
82 / 100

The dry leaves still have a little wet pile odor, but fortunately, this doesn't make it into the cup. I mostly taste wood and earthy flavors. My preference with shou is for sweeter notes of cherry, dried fruit, chocolate, vanilla, etc. I'll let this air out for a few weeks and see if it changes, but it's pretty mediocr...
Read Full Review
76 / 100

I'll be surprised if I ever give more than 3 stars for aroma in a ripe puerh review. They all smell the same to me, excluding the odors of too fresh, poorly made, or improperly stored examples. The taste, though, is something else. Each one tastes noticably different in both subtle and obvious ways. What they all seem ...
Read Full Review
78 / 100

At first, this mostly smells and tastes like generic ripe pu-erh: wood, leaves, earth. It's sweet and syrupy, but the interesting flavors aren't immediately obvious. It does have subtle, non-generic-shou flavors that can be brought out depending on how you brew, though: caramel, cherry cola, dried fruit. Typical gaiwan...
Read Full Review
74 / 100

This was a surprise bonus in my order. Being new to pu-erh, I really appreciated being able to sample something that I wouldn't have picked out, giving me a little extra variety to figure out what I do and don't like. The first thing I noticed about this mini cake (and the other ripe pu-erh I got from White2Tea, Old Re...
Read Full Review
80 / 100

The smell reminds me of a more "pure" version of the hazelberry pu erh tea from Adagio, and is very "woodsy" But with a more mineral of rocky taste, it is a very good value too, especially for a tea from almost 10 years ago.
Read Full Review
↑Top Reviewers
Review 3 teas to get on this list!
Advertisement
↑Most-Rated Ripened (Shou)
↑Top-Rated Ripened (Shou)