Peppermint Tea
Wikipedia: Peppermint
Last Updated: Oct. 4, 2018
↑About Peppermint Tea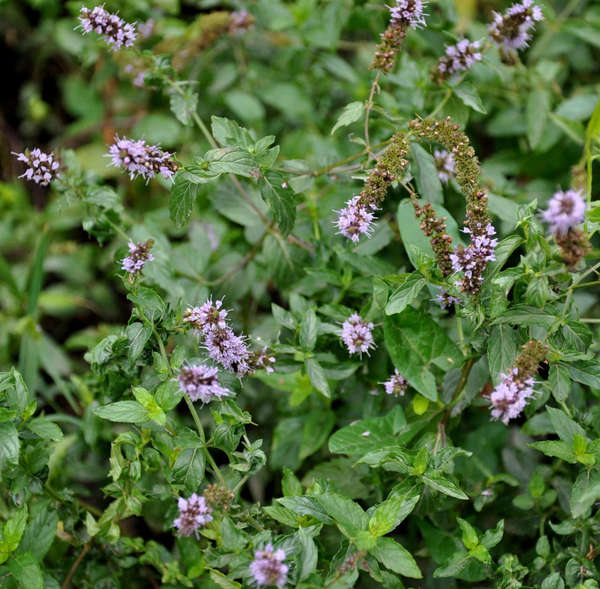 A peppermint plant in bloom. Photo © Lazaregagnidze (Wikimedia Commons),
CC BY-SA 4.0
.
Peppermint
is a type of mint, a hybrid or cross between
spearmint
(
Mentha spicata
) and watermint (
Mentha aquatica
). Besides its use in herbal tea, it is a common flavoring in candy, often paired with chocolate.
Peppermint is the most widely-available mint in herbal tea, although it is not necessarily the "typical" or "default" mint; because of its distinctive aroma it is usually called by its full name rather than referred to generically as "mint", which usually references spearmint.
Aroma and Flavor
The aroma of peppermint is familiar to most people in the U.S., as it is the flavoring of candy canes and other peppermint candy. The aroma is usually described as fresh and invigorating, and peppermint also creates a powerful cooling sensation, stronger than other mints. Peppermint has one of the most intense aromas of all the herbs commonly used in teas. Even a small amount of peppermint leaf added to an herbal blend can drown out other ingredients.
Use in Herbal Teas and Tea Blends
Because of its dominating nature, peppermint is less versatile than other mints in blends, and it is thus either used on its own, or in very small quantities. Common blending ingredients include chamomile and hibiscus. Peppermint does not blend with true tea (green or black tea) as other mints, although it is sometimes used in such blends.
Health effects, benefits, and cautions
Peppermint tea is traditionally used for a variety of purposes, the most common of which is to treat digestive upset.
A 2006 meta analysis of peppermint
concluded that
in vitro
, peppermint has strong antimicrobial, antiviral, antioxidant, and antitumor activity, and that there is some evidence that peppermint relaxes the digestive tract. Peppermint oil has also been studied for treating irritable bowel syndrome(IBS), but there was a lack of clinical trials of peppermint tea and limited studies of peppermint leaf.
A 2014 review
found that peppermint oil was safe and effective for treating IBS, but again this study was on thei oil, not the herbal tea.
Owing to its antioxidants, peppermint tea is one of many herbal teas
that has been studied with promising results
for its potential to lower breast cancer risk.
The plant and its essential oil have also been used as an antiseptic due to its antimicrobial properties.
Dangers, side-effects, and toxicity
High doses of peppermint are toxic. The plant can be hepatotoxic (damaging to the liver) and nephrotoxic (damaging to the kidneys), perhaps due to the chemical
pulegone
, which is also a neurotoxin and can induce a coma. There is even
one case of a woman nearly killed by ingesting peppermint oil
. An herbal infusion of the plant, though, is much safer than the pure oil.
At lower doses, possible side effects include heartburn, digestive upset, and headache. When used as a treatment for IBS, heartburn was a relatively common side-effect.
The Peppermint Plant
Peppermint is a sterile hybrid, meaning that it cannot reproduce by seeds. It can persist in the wild in vegetative colonies, spreading by underground runners. Wild populations in Eurasia can be the result of natural hybridization where the range of spearmint and watermint overlap, but most populations are escapes or populations of formerly cultivated plants.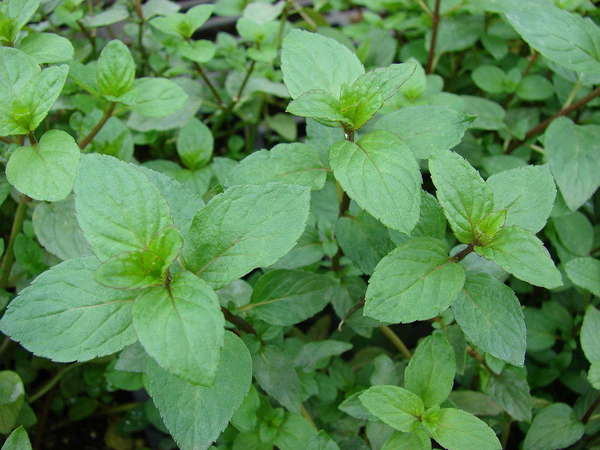 This peppermint plant has slightly rounder leaves, but still shows the characteristic reddish stems. Photo ©
Forest & Kim Starr
,
CC BY 3.0
.
Identification
Most peppermint is easily identified by its distinctive smell, although a few unusual cultivars like '
Orange Mint
' or '
Chocolate Mint
' smell very different.
Like all true mints (
Mentha sp.
), peppermint has square stems, opposite leaves, and a neat, symmetrical growth habit, with many stems rising from underground runners. The shape of the leaves, however, is more variable across the different peppermint cultivars than the natural variation that exists within most pure species of mint. Many, but not all varieties of peppermint have reddish-purple stems, and sometimes the leaves have a reddish-purple tinge, usually strongest along the veins and around the edges. Many peppermint plants have long, narrow leaves like spearmint, but some have shorter, more rounded leaves.
Gardening and Cultivation
The growing requirements of peppermint are similar to spearmint, and it shares that plant's aggressive growth habit. Peppermint thrives in moist temperate climates, where it does best in part shade and moist soil rich in organic matter.
Peppermint is an aggressive plant, but when grown together, spearmint sometimes out-competes peppermint; this is especially true of some of the peppermint cultivars selected for their particular aromas. But more vigorous varieties of peppermint still outcompete many garden plants, and are safest to grow in containers for this reason.
New peppermint cultivars can be created by cross-pollinating spearmint and watermint, but propagation that preserves the distinct aromatic profile of a given plant must be done by cutting. Like other mints, peppermint is easy to grow from stem cuttings. Cuttings can be placed in a glass of water and allowed to root in water, then later planted, or they can be buried horizontally in soil.
↑Recent Peppermint Reviews — RSS
81 / 100

The version I have simply is called "Peppermint" without the "Purely" or "Soothing" parts, though I have seen the white-box "Soothing" version in stores too. The ingredient in both simply is peppermint leaves. I don't know if it has been wholly renamed, or if this is just a relabeling of the same tea for different ma...
Read Full Review
51 / 100

It's not hard to get peppermint tea right: just use properly grown and dried leaves and put enough in the bag to fill it when wet. They got the first part, and failed miserably on the second.

I've had a lot of peppermint teas, and the quality of the leaves they use stands with any of them, even with a few choppe...
Read Full Review
70 / 100

One-litre pot at home, made from finely chopped leaves of peppermint. Pours nearly clear darkish brown (against white china). Clear aroma of, well, peppermint, but without any aggressive notes, despite the fact that I brewed the tea for 10 minutes. Clean flavour of peppermint - again, not aggressive but definitely undi...
Read Full Review
78 / 100

The weird thing about TEViVE teas is that the teabags contain half of the tea or herb or whatever of other brands. The flavored black teas each contain one gram of tea instead of two. The peppermint teabags contain .6 gram while my box of Stash teabags have a full gram. Whenever I make this, I use twice as many teabags...
Read Full Review
48 / 100

Once again, I drank a Twinings product, wondering how this brand gained enough of a reputation or loyalty to have lasted so long. The peppermint in these bags wasn't bad, but wasn't great either. Lots of stems too! It reminded me a lot of cheap/knock-off store brands or some of the lower-quality food-service pepperm...
Read Full Review
↑Top Reviewers
Review 4 teas to get on this list!
Advertisement
↑Most-Rated Peppermint

66
10 Ratings

55
6 Ratings

26
4 Ratings

13
4 Ratings

34
3 Ratings
↑Top-Rated Peppermint

66
10 Ratings

55
6 Ratings

34
3 Ratings

26
4 Ratings

13
4 Ratings