Yunnan Bo Nay Tea
This tea's info last updated: Mar. 15, 2015
Commercial Description
A full-bodied, aged tea that aids digestion.
Ratings & Reviews
Page 1 of 1 page with 1 review

Link to This Review

70
Aroma: 5/10 Flavor: 3/5 Value: 5/5
Pancakes
(
23 reviews
) on
Oct. 11th, 2011
This pu'er tea is kind of a flat and earthy tea (maybe even a little bready) with pretty simple characteristics, but it has nice qualities overall, and is very calming. Overall, it left a good impression on me.

I read one review of this tea that complained about it being "dusty." The photo accompanying the review shows an unappetizing dark and very cloudy drink. This will happen if you are not careful when brewing this tea.

After several months of drinking loose shu pu'er regularly, along with this Foojoy pu'er, I can say that the tea bag form is pretty good. It definitely captures the basic qualities of shu pu'er, but lacks some complexity and richness to be found in the high quality loose and compressed forms. It is important to note also, that after months of having this tea, I still drink it regularly, putting it on a small list of tea bag teas that wear well with age.

As an anecdote, I only had a few packets of this tea when I tried it initially. One or two days after running out, I actually had a dream at night about going out and getting a box of this tea! My dream even had that black and red Foojoy box in it! Pu'er tea does strange things to people.
Page 1 of 1 page with 1 review
More Pure Tea (Camellia sinensis) from China from Foojoy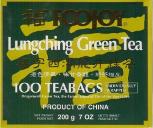 83
4 Ratings

49
4 Ratings