Chamomile Blend
Last Updated: Dec. 14, 2015
↑About Chamomile Blends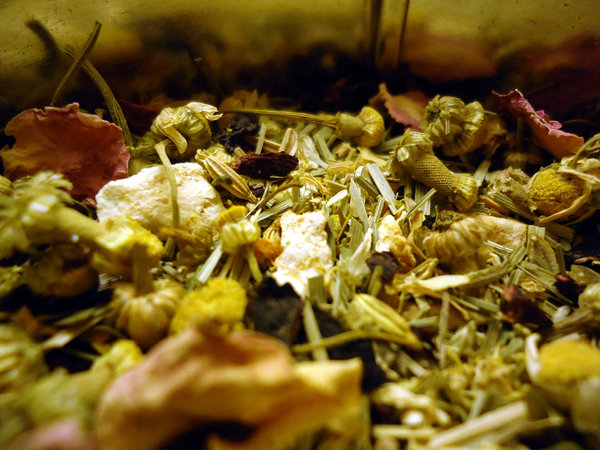 Photo by Brandon Giesbrecht, © Brandon Giesbrecht,
CC BY 2.0
A lot of herbal blends marketed as "chamomile" also contain numerous other ingredients. When buying teas, check the ingredient list if you are unsure whether a given product is pure chamomile or a blend containing other herbs.
This category of
chamomile blend
is for
herbal blends
that have chamomile as the primary ingredient, are named "chamomile", or have chamomile as the dominant note in the aroma, but also contains other herbs or ingredients. It is common for companies to sell such blends under the name of "chamomile" or "chamomile tea". We have a separate category for
pure chamomile teas
, including no other ingredients.
Many herbal teas contain chamomile as a minor ingredient among many different herbs; these we list in the general herbal tea category.
Common blending ingredients or flavorings
Chamomile blends are common and diverse. Ingredients and flavors commonly blended with chamomile include
mints
(both spearmint and peppermint), lemon or other citrus, lemon-scented herbs such as lemongrass or lemon verbena, various other fruits, or other flowers.
Pure chamomile tea often has a fruity aroma and a muted flavor with a bitter aftertaste. The ingredients blended with the chamomile are often chosen both to mitigate the bitterness in the finish, to give the blend a little more bite up-front, and to blend well with the aromas, complementing or synergizing with the fruity qualities.
Medicinal uses: effects on sleep and relaxation
Many chamomile blends are specifically marketed for the supposed relaxing or sleep-inducing properties of chamomile. Blends with chamomile as the dominant ingredient likely have similar effects to the pure herb; commonly, other herbs with similar effects are also blended. We review these properties as pertaining to pure chamomile on our page on
chamomile tea and sleep
, and you can find information about other relaxing herbs in our article on
herbs and herbal teas for anxiety
.
↑Recent Chamomile Blend Reviews — RSS
65 / 100
Cup at home, made from a sachet included in the tea company's Advent Tea Calendar (2020) and containing a mixture of chamomile flowers, pieces of cinnamon, apple, and rose hip, as well as cocoa and orange peel - all organic and sprinkled with natural flavourings. Pours clear amber (against white china) with negligible ...
Read Full Review
80 / 100

all the flavors put together makes my entire night. this is the best chamomile blend i have ever tried and even people who don't usually like tea like it and that makes me so happy.
Read Full Review
75 / 100

Here is a nice organic tisane, made predominantly with chamomile and bolstered with some fruits, rose hips, and hibiscus. So it tastes mostly of chamomile, but with a steely, acidic undertone. The aroma is fairly strong and floral. The price is a little high, but I guess that is due to the organic ingredients. This ...
Read Full Review
57 / 100

Directions say, "2 tea bags in a cup". While I appreciate the manufacturer's forthrightness in admitting one bag isn't enough to fill out the flavor, I also must ask, why, especially as expensive as a standard box is to start? How about simply dosing one bag with the full recommended pile of plant material instead? ...
Read Full Review
53 / 100

I've had a few knockoffs of this lately, so I figured I'd review the real thing. Sweet Dreams is basically chamomile tea for people that don't like chamomile. When dry, the dominant aroma is spearmint. After steeping, it's a subdued mintiness with a bit of cinnamon and citrus.

The flavor complements the aroma and se...
Read Full Review
↑Top Reviewers
Review 6 teas to get on this list!
Advertisement
↑Most-Rated Chamomile Blend

53
14 Ratings

70
13 Ratings

41
10 Ratings

22
5 Ratings

57
4 Ratings
↑Top-Rated Chamomile Blend

99
3 Ratings

70
13 Ratings

57
4 Ratings

55
4 Ratings

53
14 Ratings