Chamomile Blend
Last Updated: Dec. 14, 2015
↑About Chamomile Blends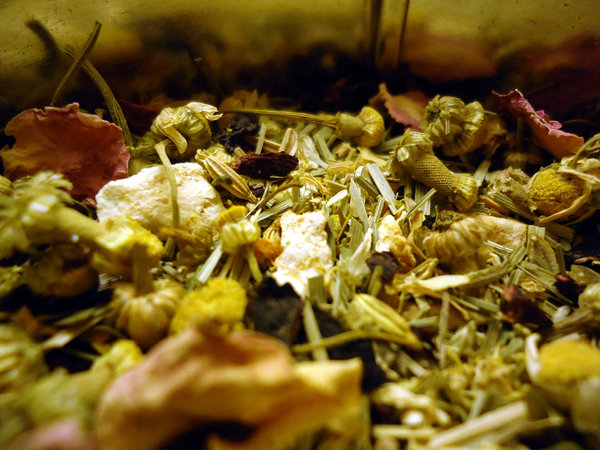 Photo by Brandon Giesbrecht, © Brandon Giesbrecht,
CC BY 2.0
A lot of herbal blends marketed as "chamomile" also contain numerous other ingredients. When buying teas, check the ingredient list if you are unsure whether a given product is pure chamomile or a blend containing other herbs.
This category of
chamomile blend
is for
herbal blends
that have chamomile as the primary ingredient, are named "chamomile", or have chamomile as the dominant note in the aroma, but also contains other herbs or ingredients. It is common for companies to sell such blends under the name of "chamomile" or "chamomile tea". We have a separate category for
pure chamomile teas
, including no other ingredients.
Many herbal teas contain chamomile as a minor ingredient among many different herbs; these we list in the general herbal tea category.
Common blending ingredients or flavorings
Chamomile blends are common and diverse. Ingredients and flavors commonly blended with chamomile include
mints
(both spearmint and peppermint), lemon or other citrus, lemon-scented herbs such as lemongrass or lemon verbena, various other fruits, or other flowers.
Pure chamomile tea often has a fruity aroma and a muted flavor with a bitter aftertaste. The ingredients blended with the chamomile are often chosen both to mitigate the bitterness in the finish, to give the blend a little more bite up-front, and to blend well with the aromas, complementing or synergizing with the fruity qualities.
Medicinal uses: effects on sleep and relaxation
Many chamomile blends are specifically marketed for the supposed relaxing or sleep-inducing properties of chamomile. Blends with chamomile as the dominant ingredient likely have similar effects to the pure herb; commonly, other herbs with similar effects are also blended. We review these properties as pertaining to pure chamomile on our page on
chamomile tea and sleep
, and you can find information about other relaxing herbs in our article on
herbs and herbal teas for anxiety
.
↑Recent Chamomile Blend Reviews — RSS
70 / 100

I'm stuck in a hotel for few days for a conference, but the bright side is finding a brand of food service teas that I've never tasted.

I decided to make a cup of Enchanting Moments before bed. It's a spot-on mimic of Bigelow's Sweet Dreams herbal tea. The main flavors are chamomile, peppermint and spearmint.

I l...
Read Full Review
43 / 100

The dry tea smells like lemons and the first ingredient is lemongrass, so I was expecting a much more lemony flavor than I'm getting. The flavor is mostly chamomile with a sort of far-off whiff of lemon peel. I'm curious about the lemongrass because the flavor's normally more pronounced when it's an ingredient. It's al...
Read Full Review
73 / 100

Uncommonly in my admittedly limited tea-drinking experience, this was the second different bagged chamomile blend (as opposed to pure chamomile) from the same company—the first being "Relaxing Chamomile". This tea is decidedly chamomile-dominant in dry-bag, in-cup and wet-bag aromas, and despite not having the word...
Read Full Review
81 / 100

Until "Relaxing Chamomile", I hadn't chugged a chamomile tea with this many ingredients: at least seven. I say, "at least", because after chamomile, hawthorne berry, eleuthero, rose petals, natural blood orange flavor, and natural vanilla flavor, the final ingredient was, "other natural flavors", whatever that means....
Read Full Review
69 / 100

Mostly, this seemed like a straight chamomile tea, from the dry-bag and in-cup scents to the golden-tan color of the poured liquid. Despite all the fruits and herbs blended into the mix, as seen in the "Commercial Description" here onsite, chamomile still dominated all the aromas, taste and aftertaste, to such an exte...
Read Full Review
↑Top Reviewers
Review 6 teas to get on this list!
Advertisement
↑Most-Rated Chamomile Blend

82
14 Ratings

92
13 Ratings

80
9 Ratings

81
4 Ratings

77
4 Ratings
↑Top-Rated Chamomile Blend

99
3 Ratings

92
13 Ratings

82
14 Ratings

81
4 Ratings

80
9 Ratings