Chamomile Blend
Last Updated: Dec. 14, 2015
↑About Chamomile Blends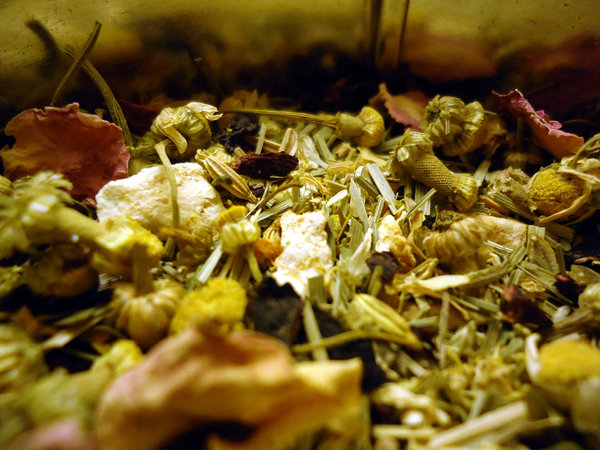 Photo by Brandon Giesbrecht, © Brandon Giesbrecht,
CC BY 2.0
A lot of herbal blends marketed as "chamomile" also contain numerous other ingredients. When buying teas, check the ingredient list if you are unsure whether a given product is pure chamomile or a blend containing other herbs.
This category of
chamomile blend
is for
herbal blends
that have chamomile as the primary ingredient, are named "chamomile", or have chamomile as the dominant note in the aroma, but also contains other herbs or ingredients. It is common for companies to sell such blends under the name of "chamomile" or "chamomile tea". We have a separate category for
pure chamomile teas
, including no other ingredients.
Many herbal teas contain chamomile as a minor ingredient among many different herbs; these we list in the general herbal tea category.
Common blending ingredients or flavorings
Chamomile blends are common and diverse. Ingredients and flavors commonly blended with chamomile include
mints
(both spearmint and peppermint), lemon or other citrus, lemon-scented herbs such as lemongrass or lemon verbena, various other fruits, or other flowers.
Pure chamomile tea often has a fruity aroma and a muted flavor with a bitter aftertaste. The ingredients blended with the chamomile are often chosen both to mitigate the bitterness in the finish, to give the blend a little more bite up-front, and to blend well with the aromas, complementing or synergizing with the fruity qualities.
Medicinal uses: effects on sleep and relaxation
Many chamomile blends are specifically marketed for the supposed relaxing or sleep-inducing properties of chamomile. Blends with chamomile as the dominant ingredient likely have similar effects to the pure herb; commonly, other herbs with similar effects are also blended. We review these properties as pertaining to pure chamomile on our page on
chamomile tea and sleep
, and you can find information about other relaxing herbs in our article on
herbs and herbal teas for anxiety
.
↑Recent Chamomile Blend Reviews — RSS
69 / 100

In many ways, this seemed like a straight chamomile tea, from the dry-bag and in-cup scents to the golden-tan color of the poured liquid. Despite all the fruits and herbs blended into the mix, as seen in the "Commercial Description" here onsite, chamomile still dominated all the aromas, taste and aftertaste, to such a...
Read Full Review
55 / 100
I like a good cup of chamomile tea before bed. Chamomile Nights fits the bill to a 't'. The aroma doesn't stand out in any way, it's a basic chamomile. The flavor is subtly sweet and predominantly chamomile based (obviously). It's not too mellow, but not too sweet either. I may have found my new night-time tea!
Read Full Review
66 / 100

I found this one hard to rate, and get the sense drinkers will fall into one of three main camps:
* Like it!
* Yuck, pour it out now! or...
* What did I just drink?

My reaction is a mix of the first and last bullets. The tea is a puzzle. It does different things to different senses at different times, which...
Read Full Review
82 / 100

Formula: broom straw + lavender + chamomile = sugar cookies!

My wife brought a jar of this home from an estate sale figuring I'd try almost anything. She's right, although admittedly I'm not a fan of floral teas that smell or taste overtly so. Such teas remind me of drinking an old girlfriend's perfume: no bueno...
Read Full Review
80 / 100

Love this tea. Great price for a simple and sweet herbal tea. If you're not really a Chamomile fan or haven't tried many types of it yet, give this one a try. The honey and vanilla tone down the chamomile taste.

This is one of my go-to teas for when I have a sore throat. Right before pouring the hot water over the b...
Read Full Review
↑Top Reviewers
Review 6 teas to get on this list!
Advertisement
↑Most-Rated Chamomile Blend

11
14 Ratings

37
13 Ratings

10
9 Ratings

8
4 Ratings

36
4 Ratings
↑Top-Rated Chamomile Blend

54
3 Ratings

37
13 Ratings

36
4 Ratings

11
14 Ratings

10
9 Ratings