Chamomile Blend
Last Updated: Dec. 14, 2015
↑About Chamomile Blends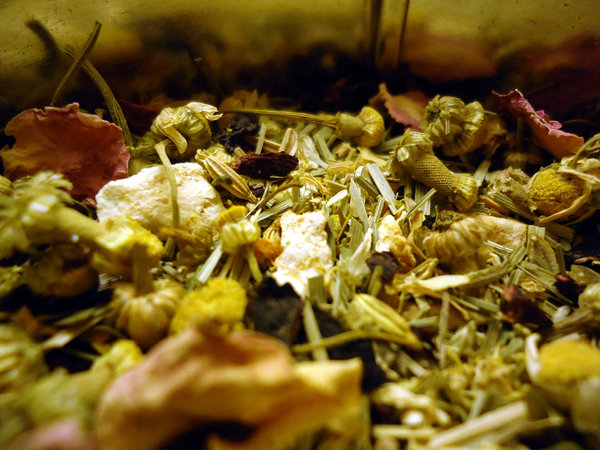 Photo by Brandon Giesbrecht, © Brandon Giesbrecht,
CC BY 2.0
A lot of herbal blends marketed as "chamomile" also contain numerous other ingredients. When buying teas, check the ingredient list if you are unsure whether a given product is pure chamomile or a blend containing other herbs.
This category of
chamomile blend
is for
herbal blends
that have chamomile as the primary ingredient, are named "chamomile", or have chamomile as the dominant note in the aroma, but also contains other herbs or ingredients. It is common for companies to sell such blends under the name of "chamomile" or "chamomile tea". We have a separate category for
pure chamomile teas
, including no other ingredients.
Many herbal teas contain chamomile as a minor ingredient among many different herbs; these we list in the general herbal tea category.
Common blending ingredients or flavorings
Chamomile blends are common and diverse. Ingredients and flavors commonly blended with chamomile include
mints
(both spearmint and peppermint), lemon or other citrus, lemon-scented herbs such as lemongrass or lemon verbena, various other fruits, or other flowers.
Pure chamomile tea often has a fruity aroma and a muted flavor with a bitter aftertaste. The ingredients blended with the chamomile are often chosen both to mitigate the bitterness in the finish, to give the blend a little more bite up-front, and to blend well with the aromas, complementing or synergizing with the fruity qualities.
Medicinal uses: effects on sleep and relaxation
Many chamomile blends are specifically marketed for the supposed relaxing or sleep-inducing properties of chamomile. Blends with chamomile as the dominant ingredient likely have similar effects to the pure herb; commonly, other herbs with similar effects are also blended. We review these properties as pertaining to pure chamomile on our page on
chamomile tea and sleep
, and you can find information about other relaxing herbs in our article on
herbs and herbal teas for anxiety
.
↑Recent Chamomile Blend Reviews — RSS
53 / 100

I've had a few knockoffs of this lately, so I figured I'd review the real thing. Sweet Dreams is basically chamomile tea for people that don't like chamomile. When dry, the dominant aroma is spearmint. After steeping, it's a subdued mintiness with a bit of cinnamon and citrus.

The flavor complements the aroma and se...
Read Full Review
70 / 100

This is ALDI's recreation of Bigelow Sweet Dreams. The balance is a bit different, but the same flavors are there.

The profile is chamomile and mint. The dominant mint is spearmint rather than peppermint and there's a little bit of sourness from the hibiscus. The menthol coolness appears in the finish along with som...
Read Full Review
69 / 100

This tea gave me some peculiar impressions before ever pouring a drop down my throat. The dry-bag smell brought back vague yet unwelcome childhood memories of illness, and it took me a minute to figure out why. The dry aroma reminded me much of the 1970s formulation of Kaopectate diarrhea medicine—then a dense, sli...
Read Full Review
70 / 100

I'm stuck in a hotel for few days for a conference, but the bright side is finding a brand of food service teas that I've never tasted.

I decided to make a cup of Enchanting Moments before bed. It's a spot-on mimic of Bigelow's Sweet Dreams herbal tea. The main flavors are chamomile, peppermint and spearmint.

I l...
Read Full Review
43 / 100

The dry tea smells like lemons and the first ingredient is lemongrass, so I was expecting a much more lemony flavor than I'm getting. The flavor is mostly chamomile with a sort of far-off whiff of lemon peel. I'm curious about the lemongrass because the flavor's normally more pronounced when it's an ingredient. It's al...
Read Full Review
↑Top Reviewers
Review 6 teas to get on this list!
Advertisement
↑Most-Rated Chamomile Blend

53
14 Ratings

70
13 Ratings

41
10 Ratings

57
4 Ratings

68
4 Ratings
↑Top-Rated Chamomile Blend

99
3 Ratings

70
13 Ratings

68
4 Ratings

57
4 Ratings

55
4 Ratings