Chamomile Blend
Updated: Dec. 14, 2015
About Chamomile Blends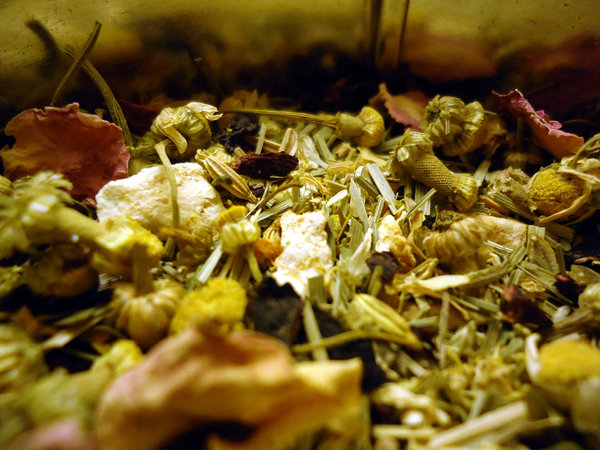 Photo by Brandon Giesbrecht, © Brandon Giesbrecht,
CC BY 2.0
A lot of herbal blends marketed as "chamomile" also contain numerous other ingredients. When buying teas, check the ingredient list if you are unsure whether a given product is pure chamomile or a blend containing other herbs.
This category of
chamomile blend
is for
herbal blends
that have chamomile as the primary ingredient, are named "chamomile", or have chamomile as the dominant note in the aroma, but also contains other herbs or ingredients. It is common for companies to sell such blends under the name of "chamomile" or "chamomile tea". We have a separate category for
pure chamomile teas
, including no other ingredients.
Many herbal teas contain chamomile as a minor ingredient among many different herbs; these we list in the general herbal tea category.
Common blending ingredients or flavorings
Chamomile blends are common and diverse. Ingredients and flavors commonly blended with chamomile include
mints
(both spearmint and peppermint), lemon or other citrus, lemon-scented herbs such as lemongrass or lemon verbena, various other fruits, or other flowers.
Pure chamomile tea often has a fruity aroma and a muted flavor with a bitter aftertaste. The ingredients blended with the chamomile are often chosen both to mitigate the bitterness in the finish, to give the blend a little more bite up-front, and to blend well with the aromas, complementing or synergizing with the fruity qualities.
Best Chamomile Blend
The notion of the "best" Chamomile Blend is subjective, because different people have different tastes. We present the most often-rated and highest-rated teas in this category, and allow you to draw your own conclusions.
Most Often-Rated Teas
Top-Rated Teas