Irish Breakfast
Wikipedia: Irish_Breakfast_tea | Teaviews: irish-breakfast-tea
Last Updated: Mar. 14, 2014
↑About Irish Breakfast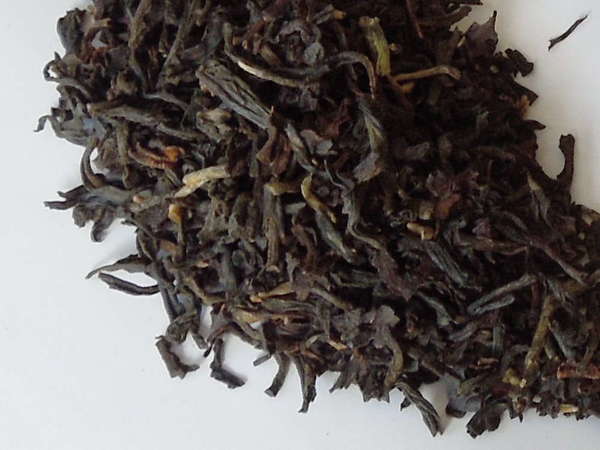 Loose-Leaf Organic Irish Breakfast Black Tea from Wegmans, Photo © Alex Zorach,
CC BY-SA 4.0
.
Irish Breakfast
is a style of
breakfast black tea
. The term "Irish Breakfast" is used primarily outside of Ireland; in Ireland this style is referred to just as "tea".
Like other breakfast teas, it is often a blend, and is defined more by its character than by the particular styles and regions of origin of tea used to produce the blend. However, Irish Breakfast tends to include
Assam black tea
in greater proportions, giving the blend a stronger flavor, and a rich, malty character. Some Irish breakfasts are made only out of Assam. Mechanically processed CTC (Crush-Tear-Curl) teas are commonly used in this blend, as they infuse quickly and result in a bold flavor.
Irish Breakfast is similar to
English Breakfast
, but tends to be significantly stronger tasting. The tea is widely described with the Irish saying that tea should be "strong enough for a mouse to trot on".[1] Irish Breakfast is also similar to
Ostfriesen tea
, a strong black tea blend originating in Germany, which also usually features Assam tea prominently.
References:
1. Amy Hackney Blackwell, Ryan Hackney, The Everything Irish History & Heritage Book, Everything Books, 2004.
↑Recent Irish Breakfast Reviews — RSS
75 / 100

I haven't tried a lot of Irish breakfast teas, but I like this one. It has a very smooth quality. It's caffeine isn't actually too intense, and it doesn't turn bitter easily the way some black teas can. This is a solid breakfast tea, I think. :-)
Read Full Review
90 / 100

Adagio's Irish Breakfast is a well-priced aromatic blend that goes best with a bit of milk. I disagree with the company's "malty" descriptor. The dry leaf has a twangy jammy aroma that is very pleasant. An overall solid daily tea.
Read Full Review
79 / 100

This tea has a very nice blend of maltiness and citrus at an extremely good value!
Read Full Review
63 / 100

Been drinking this for 20-something years. Even back in my coffee drinking days, this is what was thrown in the food sack when we'd go out backpacking and climbing. Brewed with mountain stream water over a butane cooker on a cold mountain morning, this tea did the trick. It's strong with a good flavor. One of it's mai...
Read Full Review
85 / 100

This is truly a seamless blend, as Adagio calls it, of their Ceylon Sonata and Assam Melody teas. It stands up well to milk and sugar, but doesn't *need* it as some Irish Breakfast teas do.
Read Full Review
↑Top Reviewers
Review 4 teas to get on this list!
Advertisement
↑Most-Rated Irish Breakfast

62
22 Ratings

63
8 Ratings

47
4 Ratings

68
4 Ratings

91
3 Ratings
↑Top-Rated Irish Breakfast

91
3 Ratings

80
3 Ratings

77
3 Ratings

69
3 Ratings

68
4 Ratings