Irish Breakfast
Wikipedia: Irish_Breakfast_tea | Teaviews: irish-breakfast-tea
Last Updated: Mar. 14, 2014
↑About Irish Breakfast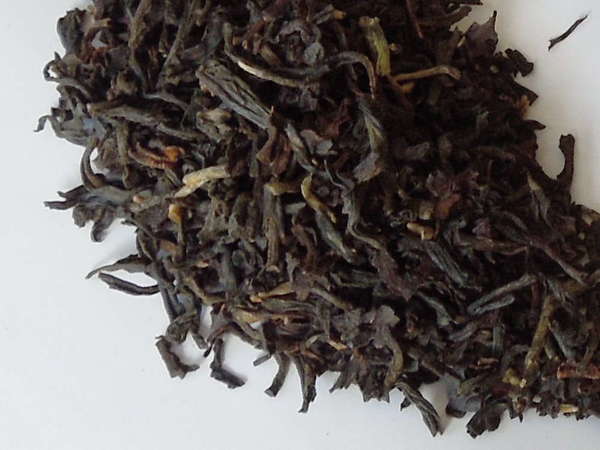 Loose-Leaf Organic Irish Breakfast Black Tea from Wegmans, Photo © Alex Zorach,
CC BY-SA 4.0
.
Irish Breakfast
is a style of
breakfast black tea
. The term "Irish Breakfast" is used primarily outside of Ireland; in Ireland this style is referred to just as "tea".
Like other breakfast teas, it is often a blend, and is defined more by its character than by the particular styles and regions of origin of tea used to produce the blend. However, Irish Breakfast tends to include
Assam black tea
in greater proportions, giving the blend a stronger flavor, and a rich, malty character. Some Irish breakfasts are made only out of Assam. Mechanically processed CTC (Crush-Tear-Curl) teas are commonly used in this blend, as they infuse quickly and result in a bold flavor.
Irish Breakfast is similar to
English Breakfast
, but tends to be significantly stronger tasting. The tea is widely described with the Irish saying that tea should be "strong enough for a mouse to trot on".[1] Irish Breakfast is also similar to
Ostfriesen tea
, a strong black tea blend originating in Germany, which also usually features Assam tea prominently.
References:
1. Amy Hackney Blackwell, Ryan Hackney, The Everything Irish History & Heritage Book, Everything Books, 2004.
↑Recent Irish Breakfast Reviews — RSS
78 / 100

Prep: 8oz, sample packet, 212F, 5min

This is my first Irish breakfast tea (at least by the specific tea). This was a free sample in my most recent adagio box.

Aroma: I've had a few black teas from Adagio that were quite aggressive in their aromas. This is much more subtle; however, it's very inviting. Remi...
Read Full Review
66 / 100

Half-litre pot at home, made from very fine black tea leaves - the description on the label tea company's website mentions CTC from the best high plains of Africa - so tiny it looks nearly like granulate. Pours somewhat hazy dark copper brown with an orange taint (against white china) and no discernible sediment. Clear...
Read Full Review
90 / 100

Having never had Irish Breakfast tea before I was a bit taken aback when I opened the container to not find tea leaves, but little pellets like the low cost tea my brother buys! Having imported it all the way here I was really disappointed until I brewed some and discovered it makes the best milk tea ever.

This i...
Read Full Review
85 / 100

A blend of Assam teas that turns out to be smooth and flavorful, and offered at an excellent price by Upton. It has been one of their top sellers, for a long time, and it is not hard to see why. This does not have the rough edges or iron notes that some breakfast teas have. It is earthy, nutty, and not a challenge t...
Read Full Review
78 / 100

I'm on a quest to try all the Irish teas, and Lyon's was on the list. I hear there is a rivalry of sorts between Lyon's and Barry's and I can see why. Both are quite good and I would be happy to drink either.

Lyon's is similar to Barry's Gold blend, and I found it to be a tad smoother, and Barry's to be a little bri...
Read Full Review
↑Top Reviewers
Review 4 teas to get on this list!
Advertisement
↑Most-Rated Irish Breakfast

38
23 Ratings

45
10 Ratings

31
4 Ratings

59
4 Ratings

7
4 Ratings
↑Top-Rated Irish Breakfast

89
3 Ratings

89
3 Ratings

77
3 Ratings

60
3 Ratings

59
4 Ratings