Irish Breakfast
Wikipedia: Irish_Breakfast_tea | Teaviews: irish-breakfast-tea
Last Updated: Mar. 14, 2014
↑About Irish Breakfast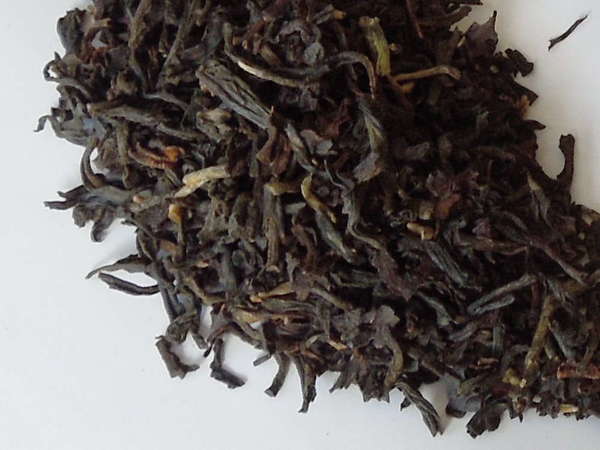 Loose-Leaf Organic Irish Breakfast Black Tea from Wegmans, Photo © Alex Zorach,
CC BY-SA 4.0
.
Irish Breakfast
is a style of
breakfast black tea
. The term "Irish Breakfast" is used primarily outside of Ireland; in Ireland this style is referred to just as "tea".
Like other breakfast teas, it is often a blend, and is defined more by its character than by the particular styles and regions of origin of tea used to produce the blend. However, Irish Breakfast tends to include
Assam black tea
in greater proportions, giving the blend a stronger flavor, and a rich, malty character. Some Irish breakfasts are made only out of Assam. Mechanically processed CTC (Crush-Tear-Curl) teas are commonly used in this blend, as they infuse quickly and result in a bold flavor.
Irish Breakfast is similar to
English Breakfast
, but tends to be significantly stronger tasting. The tea is widely described with the Irish saying that tea should be "strong enough for a mouse to trot on".[1] Irish Breakfast is also similar to
Ostfriesen tea
, a strong black tea blend originating in Germany, which also usually features Assam tea prominently.
References:
1. Amy Hackney Blackwell, Ryan Hackney, The Everything Irish History & Heritage Book, Everything Books, 2004.
↑Recent Irish Breakfast Reviews — RSS
75 / 100

Nice aroma, with a mild earthy scent. The liquor (5 min steep) is a dark brown. Good flavor, easy to sip all day long. Nice blend.
Read Full Review
59 / 100

The version I'm rating is from the "American" tin (packed in Greensboro, NC, but presumably shipped over in bulk to parse out for that purpose). It doesn't look appreciably different from the photo I uploaded off Twinings' website.

Dry aroma was surprisingly weak for an Irish Breakfast blend, but pleasant to the e...
Read Full Review
74 / 100

When I ordered some herbs from iHerb.com, they had better prices for Barry's teas than I can get locally, so I bought a few varieties to try and this is one of them. My box says "Irish Breakfast," so that's where I'm putting the review, but it's otherwise the same green box as the "Original Blend" and I suspect they're...
Read Full Review
81 / 100

This tea was spot-on in terms of style for Irish Breakfast, and one of the better examples of it at that.

The leaf is broken but the pieces of leaf are still recognizable as such, especially after steeping. The dry leaf has a pleasant aroma that suggests a strong, fresh tea. It infuses fairly quickly to produce a po...
Read Full Review
78 / 100

Prep: 8oz, sample packet, 212F, 5min

This is my first Irish breakfast tea (at least by the specific tea). This was a free sample in my most recent adagio box.

Aroma: I've had a few black teas from Adagio that were quite aggressive in their aromas. This is much more subtle; however, it's very inviting. Remi...
Read Full Review
↑Top Reviewers
Review 4 teas to get on this list!
Advertisement
↑Most-Rated Irish Breakfast

17
23 Ratings

45
10 Ratings

7
4 Ratings

23
4 Ratings

31
4 Ratings
↑Top-Rated Irish Breakfast

89
3 Ratings

77
3 Ratings

60
3 Ratings

59
4 Ratings

45
10 Ratings