Lu An Melon Seed
Wikipedia: Lu'an_Melon_Seed_Tea
Last Updated: Aug. 30, 2013
↑About Lu An Melon Seed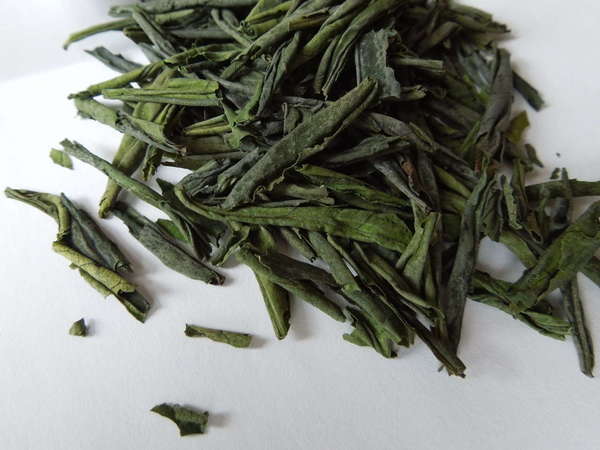 Closeup of the dry leaf of Lu An Gua Pian. Photo by Alex Zorach.
Lu An melon seed
, often written
Liu An Gua Pian
and sometimes with an apostrophe
Lu'An melon seed
, and sometimes just
Guapian tea
, is a well-known style of green tea from
Anhui, China
. The name "melon seed" references the way the leaves have an oval shape resembling melon seeds, after they unfurl during brewing. The dry leaf, on the other hand, has a rolled, cylindrical shape.
This tea tends to have a bold, strong flavor, especially relative to other green teas in its price range.
This style of tea is unusual, especially among more desireable varieties of tea, in that it uses the second leaf on the branch and does not include any tips, buds, or higher leaves. The central vein of the leaf is removed, and the leaves are then pan-fired over low heat and shaped into their final form.[1]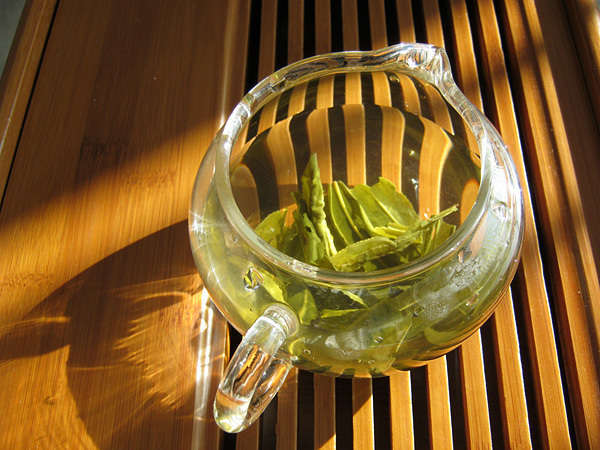 Unfurled leaves upon steeping. Photo © PanShiBo (Wikimedia Commons),
CC BY-SA 3.0
.
Although most sources classify Lu An melon seed as a green tea,
Silk Road Teas
refers to it as a
yellow tea
, due to the fact that it is subjected to an extra steaming phase in its processing.[2] We do not classify it in this manner, as the teas we classify in that way involve a slight oxidation, with the leaves sitting while damp, rather than additional heating.
Evan Draper points out the tea could be more aptly translated
Lu An Melon Flake
.
His post
on this tea goes into more depth about its production and origins, translating a key Chinese text.[3]
References:
1. Liu An Gua Pian Tea (Liu An Melon Seed Tea) Chinese Tea Culture, www.chinese-tea-culture.com, Retrieved Nov. 3, 2009.
2. Little Melon Seed (Lu An Gua Pian), Silk Road Teas, Retrieved Mar. 6, 2012.
3. Draper, Evan, 中国茶经: 六安瓜片 Lù'ān Guāpiàn, PluckTea, Aug. 27, 2013.
↑Recent Lu An Melon Seed Reviews — RSS
83 / 100

The aroma of the leaves is a delicate blend of green beans and sesame seeds with a touch of spicebush flowers and hyacinth. There is also a tiny hint of chestnut at the finish, the aroma notes are not the strongest, but they are pleasant in their delicateness.

The taste is refreshing, it starts with a blend of melo...
Read Full Review
97 / 100

The aroma is quite vegetal and also quite nutty, with note of green beans, spinach, chestnut, sweet sesame seed paste (Halva for those who enjoy Middle Eastern desserts) and a very delicate finish of toast. It manages to be sweet and vegetal without the clashing, in fact sniffing this tea makes me a bit hungry.

The ...
Read Full Review
90 / 100

Truly a fantastic green tea, much better than any other liu an gua pian that I have tried. The dry leaves have a beautiful aroma and unfurl gently to release their emerald brew. Sweet, rich and releasing different flavors with each steeping.

I used a small glass gaiwan to brew so I could watch the leaves, and did a ...
Read Full Review
77 / 100

Now this was more my type of green tea! While not my favorite, I thought it was much better than the last Teavivre green I had, Nonpareil Te Gong Huang Shan Mao Feng.

Brewing a light green color, this tea was smooth and subtly flavored. I thought it tasted great both as a hot and cold tea.
Read Full Review
91 / 100

I'm starting to think I really like this type of green tea. The first sample of it, from Upton, I liked very much, and this one I like even better.

The dry leaf has a strong and very pleasant aroma, one I'd describe as earthy and herbaceous, and suggestive of sweetness.

This has a richer and bolder flavor than m...
Read Full Review
↑Top Reviewers
Review 2 teas to get on this list!
Advertisement
↑Most-Rated Lu An Melon Seed
↑Top-Rated Lu An Melon Seed