New Facebook Page, Footer, and Focus on Regions
Wednesday, June 26th, 2013
Re-creating our Facebook page
We recently deleted and re-created our Facebook page to reflect our name change from RateTea.net to RateTea. (Unfortunately, Facebook wouldn't let us rename the page.) Please
visit and like our new page
!
We have also created a
Tumblr for RateTea
, so all you Tumblrs can follow it. We are, of course, also still active on
Twitter
. You can find links to all these sites at the bottom-right of our page, in our
footer
, which we recently redesigned, giving easy one-click access to more pages on the site.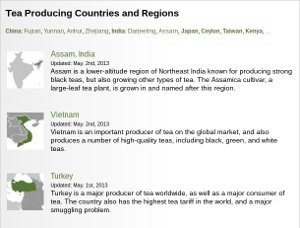 Regions are now highlighted on the homepage.
New focus on regions
The purpose of RateTea is to encourage people to develop their appreciation of tea and promote sustainability in the world of tea. One of the ways we do this is through helping people learn more about where their tea is produced.
We classify teas by
brand
,
style
, and
region
. We have recently undertaken a project to improve our articles on regions, and draw more attention to them. You will now find:
More extensive articles
More pictures
Regions featured on the homepage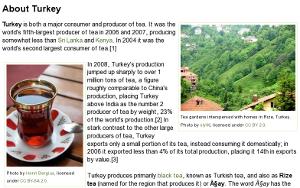 Many of the region articles now have more pictures.
The major regions, which include the countries of
China
,
India
,
Japan
,
Ceylon
,
Taiwan
, and
Kenya
, the Chinese provinces of
Fujian
,
Yunnan
,
Anhui
, and
Zhejiang
, and the two Indian regions
Darjeeling
and
Assam
, are now all available in a single click from the homepage. We have also added greater detail for some regions, including county-level detail to Yunnan province.
Beyond the common regions, we especially recommend exploring articles on regions of tea that people in the West are likely to know less about. We have greatly expanded our articles on some of these regions. Of particular interest are the articles on
Turkey
and
Vietnam
, and we also recommend checking out regions like
Indonesia
,
Malaysia
, and
South Korea
.
Highlighting recent reviewers
We have reworked the
Recent Reviews
box on the homepage so that instead of showing the most recent five tea reviews, it now highlights the five most recent reviewers. Recent reviewers will now be featured on the homepage for a longer period of time.