Fruit Black Tea
Last Updated: Jun. 18, 2018
↑About Fruit Black Tea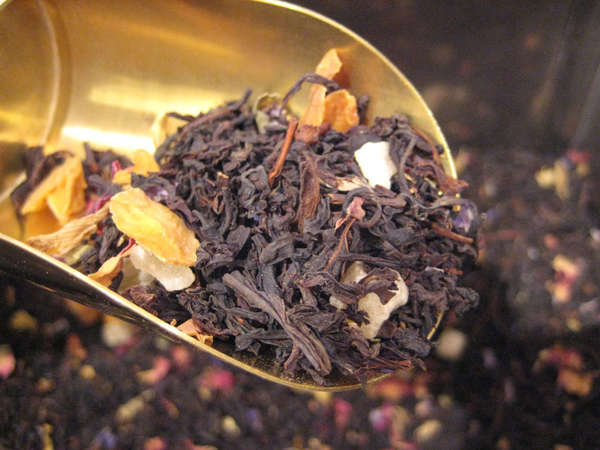 Pineapple Mango Tea, Loose-Leaf Fruit Black Tea, Photo ©
Selena N. B. H. (Flickr)
,
CC BY 2.0
.
Fruit is one of the most common flavorings for black tea.
The flavoring can be added in the form of extracts added to the dried leaves, dried fruit mixed in with the leaves, or fruit juice added after brewing the tea (as with lemon juice). Also, artificial flavors are sometimes used as a flavoring. Some other whole ingredients, such as flowers or herbs with naturally fruity aromas (such as hibiscus) are commonly added to such blends.
We include any blend in this category if the base consists exclusively of black tea with no other tea types, and the flavoring is primarily fruity; it may contain herbs, flowers, or other ingredients, but usually in smaller quantities or as accents.
Common fruits used to flavor black tea include lemon and other citrus fruits, berries, peach, apricot, mango, and lychee, although an almost endless variety of other flavorings are widely available.
↑Recent Fruit Black Tea Reviews — RSS
62 / 100

About 15 years ago, out by L.A., I saw a dude outside a smoothie shop dressed in yellow hat, yellow shoes and yellow tights, wearing a lemon costume. Had he asked me for a lift, I could have handed him a bag of this tea and satisfied the request.

Otherwise, the tea is not too useful. It reminded me a lot of flavor...
Read Full Review
65 / 100

I like this tea. The flavor is quite complex and I'm not sure which flavors are the tea itself and which are "other natural flavors." The malt sweetness of the tea is foremost and the raspberry flavor is unmistakable, but subtle. The tea tastes alternately of Ceylon and Assam, coupling the malt with an almost roasted f...
Read Full Review
68 / 100

The dry tea in the sachets is broken, but in decent-sized pieces. Pieces of hibiscus flower are apparent. The sachets smell like dried raspberries with an additional herbal, leafy scent.

Adding the water intensifies the raspberry. It doesn't quite smell like fresh raspberries, but it doesn't smell artificial, either...
Read Full Review
35 / 100

The plastic sachets of tea are transparent enough to see the tea leaves and some of the flavorings. The leaves are obviously broken, but the pieces are the same size as in the Pure Leaf loose leaf offerings. Looking closely, I can identify pieces of hibiscus and orange peel.

The dry tea smells overwhelmingly of fres...
Read Full Review
75 / 100

How appropriate it is that I opened this box, bought in Kailua and brought to Oklahoma, on the night after a the largest Big Island quake since the 1970s, while Kilauea's East Rift fissure belches steam, acrid fumes and fountains of lava through Leilani Estates. Would Mango Maui prove as smooth and relaxing as a seabr...
Read Full Review
↑Top Reviewers
Review 7 teas to get on this list!
Advertisement
↑Most-Rated Fruit Black Tea

69
21 Ratings

73
6 Ratings

50
4 Ratings

94
4 Ratings

27
4 Ratings
↑Top-Rated Fruit Black Tea

94
4 Ratings

80
3 Ratings

79
3 Ratings

73
6 Ratings

69
21 Ratings
↑Varieties, Kinds, or Types of Fruit Black Tea