Fruit Black Tea
Last Updated: Jun. 18, 2018
↑About Fruit Black Tea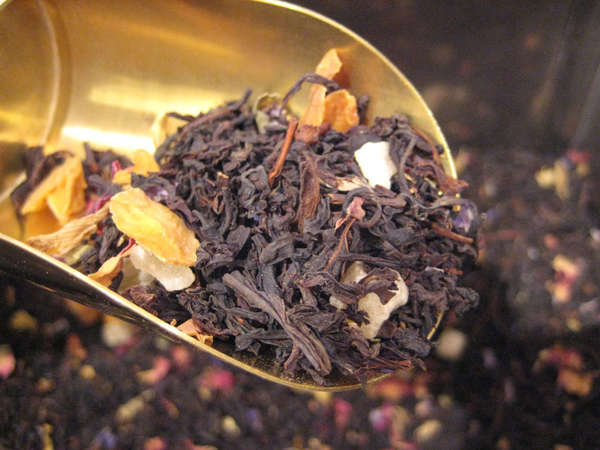 Pineapple Mango Tea, Loose-Leaf Fruit Black Tea, Photo ©
Selena N. B. H. (Flickr)
,
CC BY 2.0
.
Fruit is one of the most common flavorings for black tea.
The flavoring can be added in the form of extracts added to the dried leaves, dried fruit mixed in with the leaves, or fruit juice added after brewing the tea (as with lemon juice). Also, artificial flavors are sometimes used as a flavoring. Some other whole ingredients, such as flowers or herbs with naturally fruity aromas (such as hibiscus) are commonly added to such blends.
We include any blend in this category if the base consists exclusively of black tea with no other tea types, and the flavoring is primarily fruity; it may contain herbs, flowers, or other ingredients, but usually in smaller quantities or as accents.
Common fruits used to flavor black tea include lemon and other citrus fruits, berries, peach, apricot, mango, and lychee, although an almost endless variety of other flavorings are widely available.
↑Recent Fruit Black Tea Reviews — RSS
63 / 100

The dry teabag smells like a spiced cake, like carrot cake or gingerbread. The spice is predominantly cinnamon (mellow "Ceylon" cinnamon rather than the hotter cassia), but there's something else there, too, like nutmeg or ginger.

Interestingly, the instructions say to only steep for two minutes. I'm ignoring their ...
Read Full Review
81 / 100

This was among the better bagged, fruit-flavored black teas I've had. Raspberry teas are uncommon in my experience, so I figured to try some that I saw on a hotel tray in Gillette, Wyoming. Their water ain't the greatest, so I drank one there and also took a bag home. Upon ripping open the foil-lined pouch (s.o.p. f...
Read Full Review
62 / 100

Both the dry tea and steeped liquor have a perfumy peach aroma that smells to me like peach Jolly Rancher candy (a discontinued flavor, sadly). There's just enough passion fruit to be detectable, but I bought this particular flavor for the passion fruit and am a bit disappointed that it isn't stronger.

The fruit fla...
Read Full Review
65 / 100

This tea is good! I was a little over-hyped for it... It's one of the best lemon flavor tea's I've had, but I have never had a great one, personally. As with most fruit flavored tea's I've tried: MORE TEA FLAVOR, LESS FRUIT FLAVOR (please).
Read Full Review
79 / 100

Wow. This was one of the best-executed, if not THE best, fruit black teas I've ever tried.

I'm not normally a fan of flavored teas, but I had the opportunity to smell this at my parent's house, and the leaf smelled really appealing. The fruitiness is strong but it doesn't completely cover the aroma of the tea itself...
Read Full Review
↑Top Reviewers
Review 7 teas to get on this list!
Advertisement
↑Most-Rated Fruit Black Tea

40
21 Ratings

24
8 Ratings

10
5 Ratings

48
4 Ratings

90
4 Ratings
↑Top-Rated Fruit Black Tea

92
3 Ratings

90
4 Ratings

67
3 Ratings

57
3 Ratings

49
4 Ratings
↑Varieties, Kinds, or Types of Fruit Black Tea