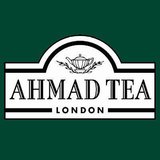 Most Reviewed By:

Ahmad Tea




Web: www.ahmadtea.com
Last Updated: Apr. 7, 2018
Ahmad Tea is a London-based tea company. The company started out selling tea produced in Gilan, Iran, across central Asia; in 1986 it first opened an office and factory in the UK. The company has since expanded to sell a wide variety of teas, with a global distribution.

Ahmad mostly sells styles of tea popular in the UK and central Asia, including English Breakfast, Earl Grey, Darjeeling, a few green teas, and a number of fruit-flavored teas. Ahmad also has a few black teas that are lightly-scented with Bergamot, making them similar to but distinct from traditional Earl Grey blends. The company sells both loose-leaf tea and tea bags, with some blends only available in one format or the other.

In the UK, Ahmad tea is mostly available only in stores. In the U.S., their teas are available through a number of different online retailers which are listed on their website. Their teas are also widely available in middle-eastern import stores. Ahmad tea is one of the most popular teas in Iran.[1] The company has separate websites for their main (UK-based) operation and their USA branch. In addition, there are products not listed on either site. We list all such products on our site: when possible we link to the UK site, using the USA-one as a fallback, and linking to Amazon's product pages if neither are available for a particular tea.

Ahmad Tea is a member of the Ethical Tea Partnership.

Most Often-Rated Teas
Top-Rated Teas
You can also add a new tea. Please search or browse this company's teas first, to avoid adding duplicates.