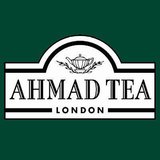 Most Reviewed By:

Ahmad Tea




Web: www.ahmadtea.com
Last Updated: Nov. 19, 2013
Ahmad Tea Ltd is a London-based tea company. Ahmad mostly sells styles of tea popular in the UK, including English Breakfast, Earl Grey, Darjeeling, a few green teas, and a number of fruit-flavored teas. Ahmad also has a few black teas that are lightly-scented with Bergamot, making them similar to but distinct from traditional Earl Grey blends. The company mostly sells tea in teabags, although it also sells loose tea, and it has a few blends that are only available loose.

In the UK, Ahmad tea is available only in stores, and is not sold online. In the U.S., their teas are available through a number of different online retailers which are listed on their website. Their teas are also widely available in middle-eastern import stores. Ahmad tea is one of the most popular teas in Iran.[1]

Ahmad Tea is a member of the Ethical Tea Partnership.

Most Often-Rated Teas
Top-Rated Teas
You can also add a new tea. Please search or browse this company's teas first, to avoid adding duplicates.