Lemon Black Tea
Last Updated: Mar. 13, 2014
↑About Lemon Black Tea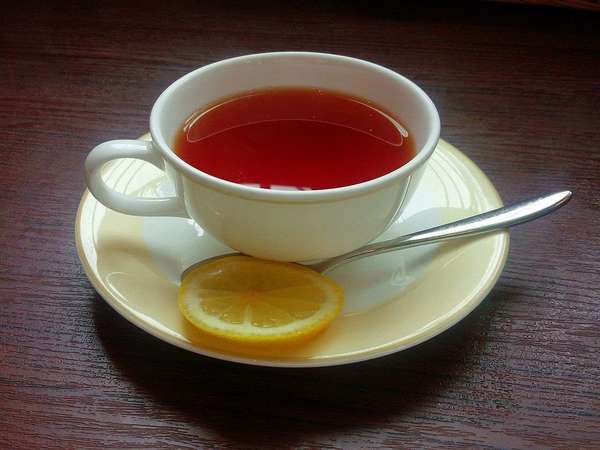 Cup of Black Tea with Lemon Slice by Lombroso (Wikimedia Commons), Public Domain.
Black tea
is often flavored with
lemon
.
This is achieved in many different ways. Commonly, like pictured on the right, the tea is brewed and then a slice of lemon is squeezed to add lemon juice before drinking the tea. Adding lemon juice to black tea changes the chemical composition of the tea, making it lighter in color and reducing its bitterness.
Some tea is packaged and sold with lemon flavoring added; this can be done by flavoring the tea leaves with the essential oil of lemon, or it can be done by including dried pieces of lemon peel in with the tea leaves.
Lemon flavoring for black and other teas can also be achieved with other herbs, including
lemongrass
,
lemon balm
,
lemon verbena
, or
lemon myrtle
. These herbs can also be combined with each other or with actual lemon flavoring. These different plants, although unrelated, actually have the same family of chemicals, although in different relative proportions. Their aromas are slightly distinct, but all are lemony.
↑Recent Lemon Black Tea Reviews — RSS
80 / 100

Half-litre pot at home, made from a mixture of a blend of black tea leaves and small pieces of dried lemon and lemon peel. Pours slightly hazy copper brown (against white china) with no sediment. Intense aroma of lemon, with notes of black tea. Bitter flavour of black tea leaves, with intense but not aggressive notes o...
Read Full Review
63 / 100

The dry teabag smells like a spiced cake, like carrot cake or gingerbread. The spice is predominantly cinnamon (mellow "Ceylon" cinnamon rather than the hotter cassia), but there's something else there, too, like nutmeg or ginger.

Interestingly, the instructions say to only steep for two minutes. I'm ignoring their ...
Read Full Review
65 / 100

This tea is good! I was a little over-hyped for it... It's one of the best lemon flavor tea's I've had, but I have never had a great one, personally. As with most fruit flavored tea's I've tried: MORE TEA FLAVOR, LESS FRUIT FLAVOR (please).
Read Full Review
62 / 100

About 15 years ago, out by L.A., I saw a dude outside a smoothie shop dressed in yellow hat, yellow shoes and yellow tights, wearing a lemon costume. Had he asked me for a lift, I could have handed him a bag of this tea and satisfied the request.

Otherwise, the tea is not too useful. It reminded me a lot of flavor...
Read Full Review
55 / 100

It's good, but it's just a very simple lemon flavor. The black tea flavor is too weak. Tastes a little too artificial. Twinings has better lemon/citrus flavored tea's, for sure.
Read Full Review
↑Top Reviewers
Review 2 teas to get on this list!
Advertisement
↑Most-Rated Lemon Black Tea

24
8 Ratings

10
5 Ratings

1 Rating
↑Top-Rated Lemon Black Tea

24
8 Ratings

10
5 Ratings