Lemon Black Tea
Updated: Mar. 13, 2014
About Lemon Black Tea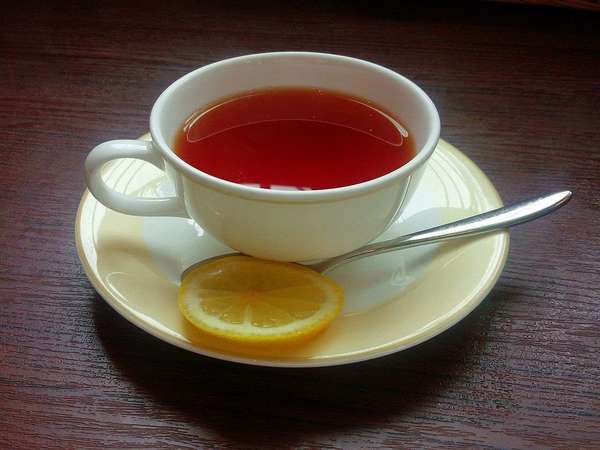 Cup of Black Tea with Lemon Slice by Lombroso (Wikimedia Commons), Public Domain.
Black tea
is often flavored with
lemon
.
This is achieved in many different ways. Commonly, like pictured on the right, the tea is brewed and then a slice of lemon is squeezed to add lemon juice before drinking the tea. Adding lemon juice to black tea changes the chemical composition of the tea, making it lighter in color and reducing its bitterness.
Some tea is packaged and sold with lemon flavoring added; this can be done by flavoring the tea leaves with the essential oil of lemon, or it can be done by including dried pieces of lemon peel in with the tea leaves.
Lemon flavoring for black and other teas can also be achieved with other herbs, including
lemongrass
,
lemon balm
,
lemon verbena
, or
lemon myrtle
. These herbs can also be combined with each other or with actual lemon flavoring. These different plants, although unrelated, actually have the same family of chemicals, although in different relative proportions. Their aromas are slightly distinct, but all are lemony.
Best Lemon Black Tea
The notion of the "best" Lemon Black Tea is subjective, because different people have different tastes. We present the most often-rated and highest-rated teas in this category, and allow you to draw your own conclusions.
Most Often-Rated Teas
Top-Rated Teas

62
5 Ratings

38
4 Ratings