Green Tea with Lemon
Last Updated: Mar. 13, 2014
↑About Green Tea with Lemon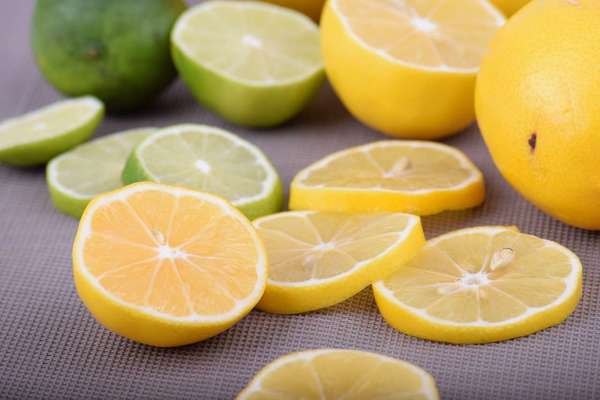 Slices of Fresh Lemon and Lime by explorerbob, Pixabay, Public Domain.
Lemon
is a common ingredient used to flavor
green tea
. The lemon can be squeezed into the tea after brewing, lemon peel can be blended with the tea before brewing, or lemon extract can be used to flavor the tea.
This category lists pre-blended green teas with lemon, as well as a few green teas that are flavored primarily with lemon but may have a few other ingredients. Lemon green tea blends often include
lemongrass
,
lemon balm
,
lemon verbena
, or
lemon myrtle
, herbs with strong lemony aromas. These blends often have a different character from green tea with fresh-squeezed lemon juice, as the lemon-scented herbs add a lemony aroma without imparting any sourness (acidity) to the tea.
↑Recent Green Tea with Lemon Reviews — RSS
58 / 100

Back to traveling with motel stays again this year, and back to finding their teas I haven't rated yet! As always, I'll bring an extra bag home to try in my well water for consistency in rating, so that bad local water doesn't affect a tea's rating unduly.

The concept behind "Green Tea with Lemon" left me with a s...
Read Full Review
78 / 100

Half-litre pot at home, made from a mixture of green tea (Sencha?) leaves, small pieces of lemon and lemon peel as well as daisy blossom, all sprinkled with a refreshing aroma. Pours clear pale straw (against white china) with no sediment. Intense aroma of lemon and lime, with clear notes of green tea. Leafy flavour of...
Read Full Review
53 / 100

Meh. Not impressed. You are better off brewing your favorite green tea and squeezing fresh lemon into it. I do not care for lemon in my green tea - unless it is iced. That said, Bigelow is inexpensive (and in my office - provided for free - in bags and K-cups) and accessible. An average, inoffensive green tea.
Read Full Review
57 / 100

Overall a pleasant flavor tea, bright for an afternoon pick-me-up. However I will echo the "lemonade" flavor previously mentioned and this is probably from the "natural flavor" in this tea. My opinion is that quality tea, blends, and herbs speak for themselves without need of such flavor enhancers.
Read Full Review
13 / 100

I saw this at WalMart for around a dollar. Lol cheaper isn't always better, wouldn't recommend this product to anyone.

I tried this tea a few different ways and each time left a funky taste in my mouth. The lemon is overwhelming and the tea taste old and stale.
Read Full Review
↑Top Reviewers
Review 2 teas to get on this list!
Advertisement
↑Most-Rated Green Tea with Lemon
↑Top-Rated Green Tea with Lemon
We need at least 3 ratings for a tea to calculate a percentile ranking. You can help us out by rating more teas of this style.