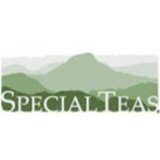 Most Reviewed By:

Search SpecialTeas's teas:
SpecialTeas – CLOSED

Last Updated: Aug. 8, 2012
SpecialTeas was an online tea company founded in 1996 by Jurgen Link and based in Stratford, CT. In 2005, SpecialTeas was acquired by ST Acquisition Company, a CT-registered corporation which shares an Atlanta business address with Teavana, as well as sharing CFO Dan Glennon and Director Andrew Mack.[1][2] In January of 2011, SpecialTeas was closed, and their website redirected to Teavana's site.

SpecialTeas sold loose tea, and had a large selection. The teas on its website were divided not only into broad categories like black, green, and oolong, but were are subdivided into regions and a few more specialized categories such as Darjeeling first flush teas.

Most Often-Rated Teas
Top-Rated Teas
We need at least 3 ratings for a tea to calculate a percentile ranking. You can help us out by rating more teas from this brand.
You can also add a new tea. Please search or browse this company's teas first, to avoid adding duplicates.