Green Tea with Mint
Wikipedia: Touareg_tea
Last Updated: Mar. 13, 2014
↑About Green Tea with Mint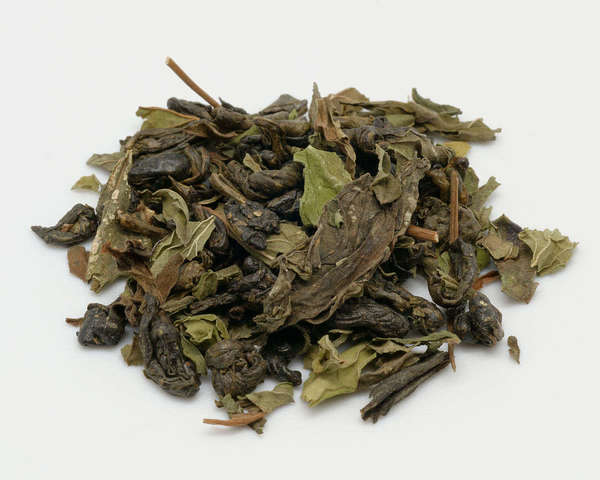 Loose-leaf Touareg Tea from Damann Frères: Gunpowder Tea With Mint, Photo © Marie-Lan Nguyen / Jastrow (Wikimedia Commons),
CC BY-2.5
.
Green tea
with
mint
is a common kind of flavored tea. In the west, certain types of green tea with mint are referred to as
Moroccan mint tea
, although the term is used very loosely and does not always refer to the same style consumed in
Morocco
. In north Africa, this style of tea is referred to as
Touareg tea
. Green tea is commonly made together with mint in Morocco and other north African countries. Traditionally, in Morocco,
gunpowder green tea
is blended with spearmint or apple mint.
In order to make green tea / mint blends, the mint can be dried and mixed with the tea leaves before brewing, and many teas are packaged and sold in this form. Alternatively, the essential oil of the mint can be used to flavor the tea leaves before packaging. Or, either dried or fresh mint leaves can be mixed with the tea at the time of brewing.
The brewing of green tea with mint can be a bit more complex than the same process for brewing black tea with mint.
Many varieties of mint exist; the most popular to use is spearmint, although other popular mints used include apple mint, peppermint, and orange mint.
↑Recent Green Tea with Mint Reviews — RSS
78 / 100
Cup at home, made from a sachet containing a mixture of peppermint and green tea leaves, pieces of orange peel and cinnamon, as well as roasted chicory and vanilla - all organic and sprinkled with flavouring. Pours slightly hazy amber (against white china) with tiny sediment. Intense aroma of peppermint and cinnamon, w...
Read Full Review
69 / 100
Cup at home, made from a sachet containing leaves of green tea and peppermint, as well as pieces of cinnamon and liquorice - all organic and sprinkled with natural flavourings. Pours clear dark straw (against white china) with no sediment. Clear aroma of fruit, liquorice and cinnamon, with hints of peppermint. Leafy fl...
Read Full Review
70 / 100

One-litre pot at home, made from a mixture of Chinese Gunpowder and Moroccan mint leaves, sprinkled with natural flavour. Pours clear light straw with no sediment. Clear aroma of mint, with mild touches of green tea leaves. Refreshing herbal flavour of mint, with touches of green tea and mild malty notes. Delicate afte...
Read Full Review
40 / 100

The green tea smells stronger than it tastes. There's nothing offensive about it, but neither is it satisfying. I rather suspect that Bigelow's green teas are blended for those that drink green tea for purported health benefits rather than the flavor. It's mild and not bitter, but it lacks any brightness or vegetal com...
Read Full Review
80 / 100

This is a pretty decent tea. It is very smooth and easy to drink because it has little bitterness and astringency. The mint and green tea go really well together. Normally I'm not so crazy about mint teas but this one mixed with green tea is really good. I get that nice mint flavor without it being too overwhelming. Th...
Read Full Review
↑Top Reviewers
Review 4 teas to get on this list!
Advertisement
↑Most-Rated Green Tea with Mint

2 Ratings
↑Top-Rated Green Tea with Mint