Green Tea with Mint
Wikipedia: Touareg_tea
Last Updated: Mar. 13, 2014
↑About Green Tea with Mint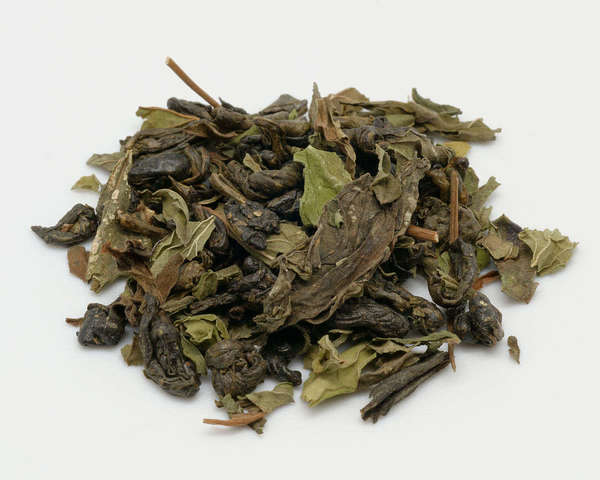 Loose-leaf Touareg Tea from Damann Frères: Gunpowder Tea With Mint, Photo © Marie-Lan Nguyen / Jastrow (Wikimedia Commons),
CC BY-2.5
.
Green tea
with
mint
is a common kind of flavored tea. In the west, certain types of green tea with mint are referred to as
Moroccan mint tea
, although the term is used very loosely and does not always refer to the same style consumed in
Morocco
. In north Africa, this style of tea is referred to as
Touareg tea
. Green tea is commonly made together with mint in Morocco and other north African countries. Traditionally, in Morocco,
gunpowder green tea
is blended with spearmint or apple mint.
In order to make green tea / mint blends, the mint can be dried and mixed with the tea leaves before brewing, and many teas are packaged and sold in this form. Alternatively, the essential oil of the mint can be used to flavor the tea leaves before packaging. Or, either dried or fresh mint leaves can be mixed with the tea at the time of brewing.
The brewing of green tea with mint can be a bit more complex than the same process for brewing black tea with mint.
Many varieties of mint exist; the most popular to use is spearmint, although other popular mints used include apple mint, peppermint, and orange mint.
↑Recent Green Tea with Mint Reviews — RSS
95 / 100

This is one of their cheaper teas, but for me it hits the spot. There is a good amount of spearmint and it blends well with the tea that is used. Make sure to add sugar and not oversteep, and you will have a delicious cup. It is a fine choice when a low caffeine tea is called for.
Read Full Review
64 / 100

Reading the online description, I had a hearty belt-buckle chuckle realizing that the title contains "Moroccan"...in a blend from South India (green tea), U.S. Pacific Northwest (spearmint), and region not given, but not likely Morocco (lemongrass). The product itself was comped to me by the store manager after he ov...
Read Full Review
51 / 100

Mellow and smooth, but too weak for my taste, this tea will appeal much more to those who enjoy straight, unadulterated spearmint as a tea flavoring. If not for the caffeine, this would make a relaxing bedtime blend. Spearmint is the overwhelmingly dominant flavor and smell, with hardly a hint of the green tea whose ...
Read Full Review
60 / 100

A blend of gunpowder tea and dried mint. It tastes the same as the mint tea I made before this, using gunpowder tea and mint. It's easier because the ingredients are already together, but I don't consider that an advantage. I loved all the steps of making mint tea before.

No matter. This seems to contain a lot of mi...
Read Full Review
87 / 100

Wonderful. Great balance of green tea and peppermint.
Read Full Review
↑Top Reviewers
Review 3 teas to get on this list!
Advertisement
↑Most-Rated Green Tea with Mint

2 Ratings
↑Top-Rated Green Tea with Mint