Green Tea with Mint
Wikipedia: Touareg_tea
Updated: Mar. 13, 2014
About Green Tea with Mint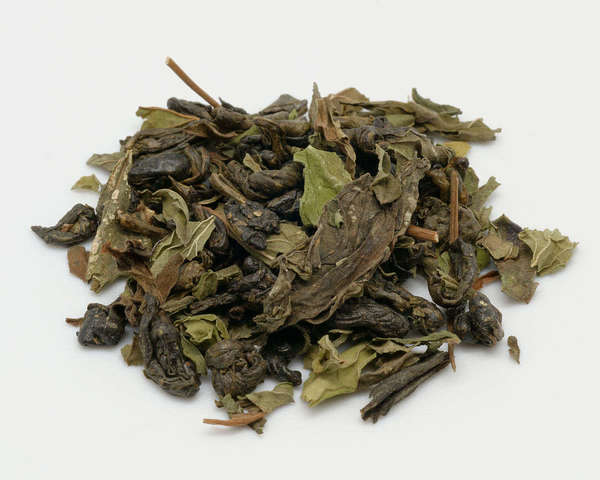 Loose-leaf Touareg Tea from Damann Frères: Gunpowder Tea With Mint, Photo © Marie-Lan Nguyen / Jastrow (Wikimedia Commons),
CC BY-2.5
.
Green tea
with
mint
is a common kind of flavored tea. In the west, certain types of green tea with mint are referred to as
Moroccan mint tea
, although the term is used very loosely and does not always refer to the same style consumed in
Morocco
. In north Africa, this style of tea is referred to as
Touareg tea
. Green tea is commonly made together with mint in Morocco and other north African countries. Traditionally, in Morocco,
gunpowder green tea
is blended with spearmint or apple mint.
In order to make green tea / mint blends, the mint can be dried and mixed with the tea leaves before brewing, and many teas are packaged and sold in this form. Alternatively, the essential oil of the mint can be used to flavor the tea leaves before packaging. Or, either dried or fresh mint leaves can be mixed with the tea at the time of brewing.
The brewing of green tea with mint can be a bit more complex than the same process for brewing black tea with mint.
Many varieties of mint exist; the most popular to use is spearmint, although other popular mints used include apple mint, peppermint, and orange mint.
Best Green Tea with Mint
The notion of the "best" Green Tea with Mint is subjective, because different people have different tastes. We present the most often-rated and highest-rated teas in this category, and allow you to draw your own conclusions.
Most Often-Rated Teas
Top-Rated Teas

17
3 Ratings