Blue Flower Earl Grey
Last Updated: Jan. 15, 2014
↑About Blue Flower Earl Grey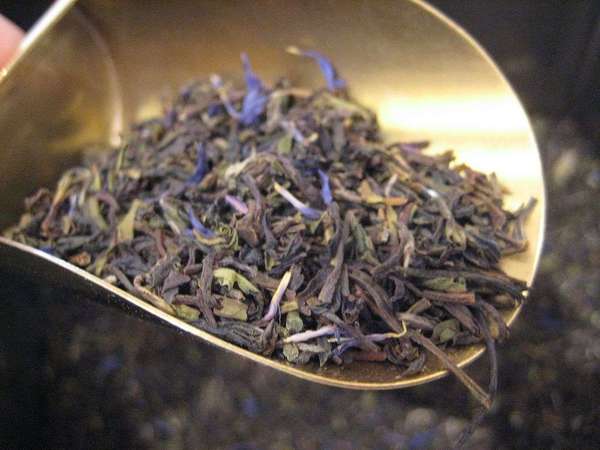 Lady Violet
, a blend of Darjeeling tea with cornflowers. Photo ©
Selena N.B.H. (Flickr)
,
CC BY 2.0
.
Blue flower Earl Grey
or
blue Earl Grey
are two of many names for a common variant of
Earl Grey tea
which has been blended with blue flowers.
Typically, the flowers are included mainly to add color to the loose leaf. Although they do impart a flavor and aroma of their own, their influence on taste is not usually noticeable because it is overpowered by the potent scent and flavor of the bergamot and black tea, both of which tend to be dominating ingredients in any blend.
Sometimes these blends of teas also contain other flavorings besides bergamot; other times they are more similar to a standard Earl Grey. Because the addition of flowers is primarily visual, these blends are also likely to include citrus peel, also for visual reasons.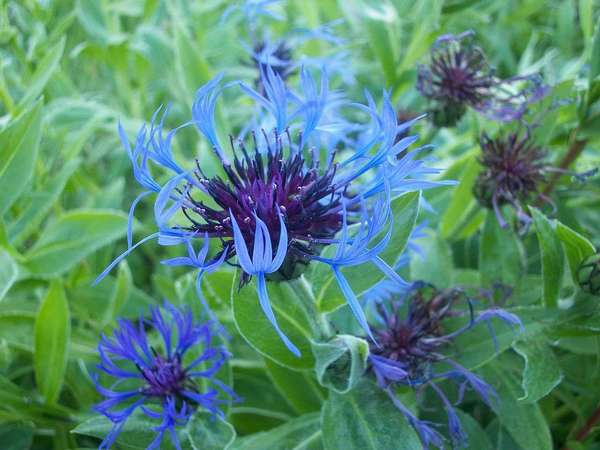 A cornflower, one of the most commonly used flowers to add color to loose-leaf tea. Public domain photo by
Tb240904 (Wikimedia Commons)
Types of flowers used
A wide variety of flowers can be used in this type of blend. Three of the most common flowers used are
cornflower (Centaurea cyanus)
, or blue
mallow (Malva)
. Less commonly used in commercial blends, but more widely available for people making such a blend in their homes, the
chicory flower
is another edible blue flower that can be used in this blend.
The cornflower, pictured right, is sometimes consumed as an herbal tea in its own right, usually for medicinal purposes. This species is a common weed in some areas, and is also cultivated as a garden specimen, but has become endangered in in the UK, and is protected there[1] as well as in Ireland[2]. Its decline is primarily due to the intensification of commercial agriculture, including increased use of herbicides and fertilizers, destruction of field edges, and use of marginal land for pasture[2].
↑Recent Blue Flower Earl Grey Reviews — RSS
85 / 100

I was blown away by this when I first tried it, but a little less so now. Btw it has a slight name and number change: it is now Blue Flower Earl Grey, NT16. The use of flowers and flavoring adds a unique and refreshing twist to the Earl Grey model. The base tea is fairly light, and I think they have reduced the inte...
Read Full Review
55 / 100

As far as breakfast teas go, I've always been a fan of Earl Grey. That said, I do have my favorites and many companies don't seem to do Earl Grey justice. While this isn't my favorite, it is an excellent option. It's smooth but with a smoky/sweet flavor, not unexpected from a Darjeeling tea. This particular tea gets al...
Read Full Review
63 / 100

Firstly, this tea is extremely citrusy and I try to blend it with some Ceylon(the base tea for this earl grey.) to make it less so. It tastes just like your average earl grey. And has a slight maltiness to it. It is very cheap though, which is always great. I only steeped this tea once and any other steeps seemed quite...
Read Full Review
70 / 100

This is what Earl Grey should aspire to be. Good, strong bergamot which many other Earl Greys lack. This is one of my staples.
Read Full Review
100 / 100

I cannot get ENOUGH of this fantastic tea. It has a strong smell of lavender which really overpowers any other taste in the tea, but it's not so strong that you can't stand it; I could still taste a tiny bit of the regular black tea earl gray flavor. The lavender is smooth, and it's extremely calming. After drinking th...
Read Full Review
↑Top Reviewers
Review 2 teas to get on this list!
Advertisement
↑Most-Rated Blue Flower Earl Grey

1 Rating
↑Top-Rated Blue Flower Earl Grey