Flavored Pu-erh
Last Updated: Mar. 14, 2014
↑About Flavored Pu-erh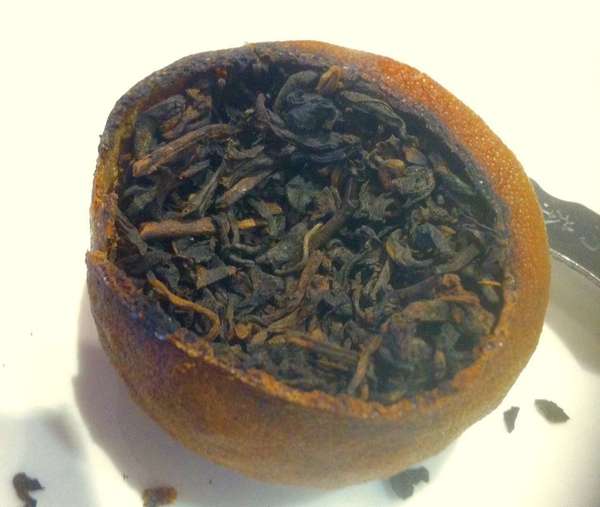 Shou Pu-erh stored inside a hollowed-out tangerine. Photo ©
Akuppa John Wigham
,
CC BY 2.0
.
Pu-erh tea
is sometimes
flavored
or scented with various ingredients. Because pu-erh is often aged, it can be scented by aging it where it is exposed to certain aromas, as with the loose pu-erh that has been aged in a hollowed clementine, pictured on the right. It can also be flavored by blending with other ingredients or scented like
jasmine tea
.
Because of the unique aromas of pu-erh, it is often blended with very different sorts of flavorings from the flavorings used with black or green teas. Traditionally,
chrysanthemum flowers
are the most common ingredient used, although ginseng root can also be used as it blends well with the earthy characteristics of pu-erh.
In addition to the more traditional flavorings, tea companies have recently started experimenting with a number of other blends such as chocolate or the vanilla mint pu-erh pictured on the left.
↑Recent Flavored Pu-erh Reviews — RSS
85 / 100

Sticking my nose into the bag, I found the aroma of the dry tea pleasant and strong. The main notes were of cinnamon, hazelnut, and chocolate. After brewing (at 200 F for 4 minutes) , those scents were more muted and subtle notes of graham cracker and campfire picked up.

The taste and aroma strike me as well blended...
Read Full Review
92 / 100

This is an extremely good beginner Pu Erh. It has a very deep flavor that tastes like how the woods smell after rainfall. And has a leafy and tree bark aroma. Also, the hazelberry evens everything out perfectly, and gives a nice flavor that doesn't take anything away from the tea. I've found that i could only get a few...
Read Full Review
70 / 100

My first pu-erh just had to be this, didn't it? As of now, I still haven't tried any other, and being an ignoramus of massive proportions about this type of tea, have no clue how it should taste. So what do I do? Drink a chocolate/nutmeg pu-erh with rooibos whose non-tea flavors (that I happen to like a lot) mask an...
Read Full Review
87 / 100

I like this style of tea. I think it's a good combination between aroma and flavor.
Read Full Review
67 / 100

I'm not a big fan of Shou Pu-erh, and I think Pu-erh tea bags usually tend to be terrible, but I thought this was a well-executed blend, and I think the ginger blends quite well with the base tea.

The aroma is distinctive. Because it's dried ginger, it reminds me a little more of gingerbread cookies than fresh ginge...
Read Full Review
↑Top Reviewers
Review 3 teas to get on this list!
Advertisement
↑Most-Rated Flavored Pu-erh

73
4 Ratings

5
3 Ratings

20
3 Ratings

2 Ratings
↑Top-Rated Flavored Pu-erh

73
4 Ratings

20
3 Ratings

5
3 Ratings
↑Varieties, Kinds, or Types of Flavored Pu-erh