Flavored Pu-erh
Updated: Mar. 14, 2014
About Flavored Pu-erh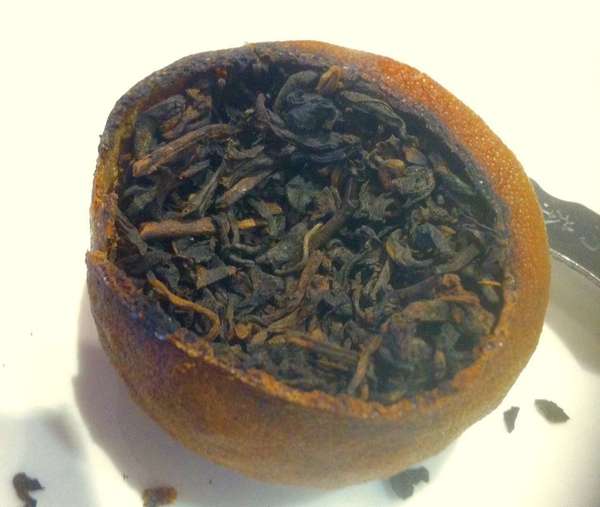 Shou Pu-erh stored inside a hollowed-out tangerine. Photo ©
Akuppa John Wigham
,
CC BY 2.0
.
Pu-erh tea
is sometimes
flavored
or scented with various ingredients. Because pu-erh is often aged, it can be scented by aging it where it is exposed to certain aromas, as with the loose pu-erh that has been aged in a hollowed clementine, pictured on the right. It can also be flavored by blending with other ingredients or scented like
jasmine tea
.
Because of the unique aromas of pu-erh, it is often blended with very different sorts of flavorings from the flavorings used with black or green teas. Traditionally,
chrysanthemum flowers
are the most common ingredient used, although ginseng root can also be used as it blends well with the earthy characteristics of pu-erh.
In addition to the more traditional flavorings, tea companies have recently started experimenting with a number of other blends such as chocolate or the vanilla mint pu-erh pictured on the left.
Varieties, Kinds, or Types of Flavored Pu-erh
Best Flavored Pu-erh
The notion of the "best" Flavored Pu-erh is subjective, because different people have different tastes. We present the most often-rated and highest-rated teas in this category, and allow you to draw your own conclusions.
Most Often-Rated Teas
Top-Rated Teas