Flavored Pu-erh
Last Updated: Mar. 14, 2014
↑About Flavored Pu-erh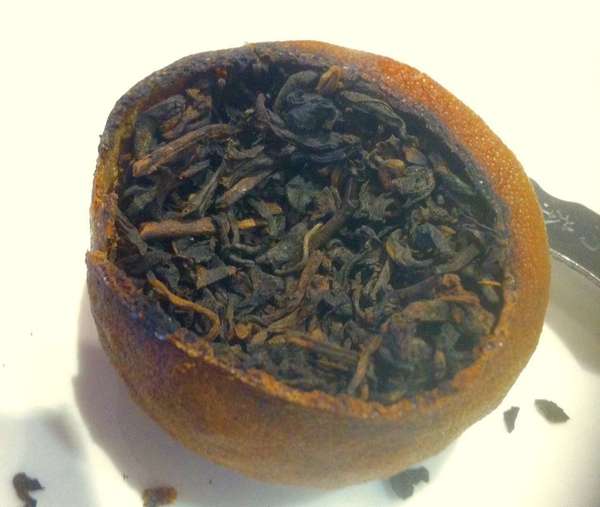 Shou Pu-erh stored inside a hollowed-out tangerine. Photo ©
Akuppa John Wigham
,
CC BY 2.0
.
Pu-erh tea
is sometimes
flavored
or scented with various ingredients. Because pu-erh is often aged, it can be scented by aging it where it is exposed to certain aromas, as with the loose pu-erh that has been aged in a hollowed clementine, pictured on the right. It can also be flavored by blending with other ingredients or scented like
jasmine tea
.
Because of the unique aromas of pu-erh, it is often blended with very different sorts of flavorings from the flavorings used with black or green teas. Traditionally,
chrysanthemum flowers
are the most common ingredient used, although ginseng root can also be used as it blends well with the earthy characteristics of pu-erh.
In addition to the more traditional flavorings, tea companies have recently started experimenting with a number of other blends such as chocolate or the vanilla mint pu-erh pictured on the left.
↑Recent Flavored Pu-erh Reviews — RSS
83 / 100
I enjoy this tea. It has a nice level of spiciness to it. I am not big on anise, but I think it works here. Ginger is definitely the most dominant spice, but it isn't overwhelming.
Read Full Review
85 / 100

Half-litre pot at home, made from dark brown pu erh leaves with bits of dried lemon slice and dried cornflower petals. Pours clear dark amber (against white china) with no sediment. Intense aroma of vanilla and pu erh tea, with notes of lemon and some floral touches. Bitter flavour of pu erh, with sweetish notes of van...
Read Full Review
50 / 100

After tasting the Breakfast blend, this one's a bit of a letdown. The cocoa, vanilla and spices are smooth and quite delicious, but I don't taste much of the tea. Other than a hint of earthiness, it tastes just like chocolate cream pie to me.

It's good, but it's a bit too expensive for something that only tastes lik...
Read Full Review
55 / 100

I've always thought of chocolate tea as a bit of a conundrum. While I love chocolate, and I love tea, in almost every case attempting to blend the two leaves you with little more than a watered-down cup of hot chocolate. Call me crazy, but hot chocolate is supposed to be rich and creamy, and somehow nobody ever seems...
Read Full Review
85 / 100

Sticking my nose into the bag, I found the aroma of the dry tea pleasant and strong. The main notes were of cinnamon, hazelnut, and chocolate. After brewing (at 200 F for 4 minutes) , those scents were more muted and subtle notes of graham cracker and campfire picked up.

The taste and aroma strike me as well blended...
Read Full Review
↑Top Reviewers
Review 3 teas to get on this list!
Advertisement
↑Most-Rated Flavored Pu-erh

93
4 Ratings

50
3 Ratings

24
3 Ratings

2 Ratings
↑Top-Rated Flavored Pu-erh

93
4 Ratings

50
3 Ratings

24
3 Ratings
↑Varieties, Kinds, or Types of Flavored Pu-erh