White Peony Tea
Wikipedia: Bai_Mudan_tea | Teaviews: bai-mu-dan-tea
Updated: Mar. 12, 2014
About White Peony Tea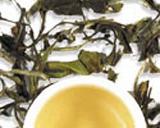 Spring White (White Peony)
from
Numi Organic Tea
White peony
, also called
pai mu tan
or
bai mu dan
(白牡丹), is a Chinese style of white tea which originated in
Fujian province
in the early 20th century. Among white teas, it tends to be darker in color and bolder in flavor than
bai hao yinzhen
, but lighter than
shou mei
, reflecting an intermediate level of
oxidation
between these other teas. White peony tea is one of the most popular and widespread types of white tea.

White Peony
from
Rishi Tea
The name "peony" can be somewhat misleading; this tea is made only from the
Camellia sinensis
plant and does not contain any peony or other flowers. The tea is named due to the silvery appearance of the unopened leaf buds, which unfurl slightly in a blossom-like manner when brewed, and the name refers to the tree peony,
Paeonia suffruticosa
. This tea also tends to have a floral aroma.
White peony tea comes in different grades of fairly widely ranging price; the lower-grade tea contains more leaves and fewer buds.
References:
1. The Harney & Sons Guide to Tea, Penguin Press, 2008, p. 27-28.
Best White Peony Tea
The notion of the "best" White Peony Tea is subjective, because different people have different tastes. We present the most often-rated and highest-rated teas in this category, and allow you to draw your own conclusions.
Most Often-Rated Teas
Top-Rated Teas